Durham Book Festival, which will take place between 7th and 16th October, this year boasts an impressive line-up, with star names including the Labour MP Alan Johnson, the author and TV funny man David Baddiel, and the left-leaning journalist and political commentator Owen Jones. Over sixty events are planned at venues in and around Durham City.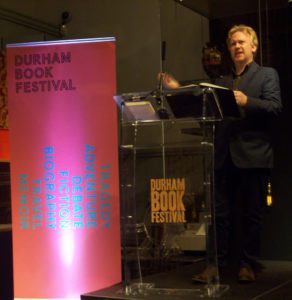 As part of our region's programme to mark the hundredth anniversary of the Somme, certain sessions will have a war-tinged theme. Writing the First World War, set to take place in the nave of Durham Cathedral, will feature Michael Morpurgo, author of the best-selling novel War Horse, and Pat Barker. Pat's novel Regeneration, which also deals with the subject of war, was selected as the festival's Big Read choice. Three-thousand copies of Regeneration will be distributed free of charge to schools, libraries and shops around County Durham.
Other festival highlights will include Laura Bates discussing feminism and talking about her latest novel Girl Up. Anthony Horowitz, best known for his Alex Rider series of novels, will be reading from his new crime book Magpie Murders at the Gala Theatre. And the transgender YA author Juno Dawson will be in conversation with Lisa Williamson, author of The Art of Being Normal, at Durham Johnston Comprehensive School.
On Saturday 8th October, the writers Nikesh Shukla, Coco Khan and Miss L will be debating the topics of race and immigration. Nikesh Shukla is the editor of a recently published collection of short stories, The Good Immigrant, which features writers from diverse backgrounds. The book was crowdfunded in only three days – and one £5,000 pledge came from a certain JK Rowling.
A number of kids' events will take place, including the musical Hey Presto, which will be offering a mix of music, magic and jokes at the Gala Theatre. The goal of the kids' sessions is to encourage children to read more.
The festival will also include a number of pop-up libraries, which will appear in various spots around County Durham. The libraries, designed by collectives from Newton Aycliffe and Shildon, will be modelled on local landmarks, such as the doors of Durham Cathedral.
Last year, over 17,000 booklovers participated in the festival and the organisers aim to draw a similar crowd this year.
To book tickets, and for further information, go to www.durhambookfestival.com