The Brass Festival is coming to Durham this summer and up-and-coming musicians will have the chance to learn from some of the world's jazz greats. 
A summer school – led by ace trombonist Jiggs Whigham and members of the BBC Big Band – will run alongside the festival from Friday 14th to Sunday 16th July.
This will be the first time the summer school has run, and it is hoped it will add to Durham's growing reputation as a great place for jazz musicians to congregate, learn, have fun and show off.
In addition to Jiggs Whigham, emerging and semi-professional musicians will get to work with lead trumpet Martin Shaw and Robin Aspland (piano), Jeremy Brown (bass) and Tom Gordon (drums).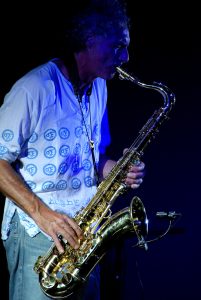 Jiggs Whigham is a world-famous trombonist who has played with Ray Charles, Dizzy Gillespie, Tony Bennett, Ella Fitzgerald, Gil Evans, Judy Garland and Jerry Lewis. 
Jiggs has been playing professionally since he was just 17-years old, when he began his career in the Glen Miller/Ray McKinley Orchestra.  
Jiggs is currently the director of the Berlin Jazz Orchestra and a visiting tutor with Guildhall School of Music and Drama and the Royal Northern College of Music. 
In addition to the summer school's workshops, there will be the opportunity to participate in two Big Brass jams with members of the BBC Big Band and visiting musicians, which will be held as part of the festival's fringe.
The courses are divided into three sections or 'bands': Youth (aged 17 to 22), intermediate and advanced. Applicants should be at the level of grade six or above. 
Applications are welcome from musicians who play the trumpet, the trombone, the alto, tenor or baritone sax, the piano, the bass, the guitar or drums.
The costs for the summer school are as follows:
Youth band participants (non-residential): £150

Intermediate and advanced band participants (non-residential, but includes lunch and coffee/tea): £250

Intermediate and advanced band participants (residential, includes breakfast, lunch, evening meal and coffee/tea): £385
On Thursday 13th July, the BBC Big Band will be putting on a tribute to Dizzy Gillespie and other brass greats. If you would like to stay another night and attend this concert, it will cost an extra £90. 
As well as the BBC Big Band, the Durham Brass Festival is set to feature the Scottish Swing Orchestra, the Brass Broadway Orchestra and a 'Venetian surround sound event' in Durham Cathedral.
For more information about the Durham Brass Festival, please visit www.brassfestival.co.uk.