Five north-east artists have been chosen to contribute to Lumiere 2017, the festival of lights that will illuminate Durham this autumn.
Earlier this year, the organisers of Lumiere 2017 made an open call for ideas to light up the city. After receiving a record-breaking 125 submissions, they whittled down the proposals until they were left with five northern artists. 
The artists selected are Durham University graduate student Fiona Finn, Durham-based digital artist Chris Plant, Gateshead-based Aiden Moesby, New College Durham student Amy Rose Welch, and Emma Boyes, a Cumbrian artist who works with paper.
The artists will have their work put on as part of Lumiere's Brilliant project. 
In previous years, Lumiere Durham pieces have included a whale in the River Wear, the history of the universe projected onto the side of Durham Cathedral, people climbing up the town's viaduct, and a waterfall cascading down from Kingsgate Bridge. 
The Lumiere Durham festival has also seen mysterious fog tumbling down from the cathedral to the river, meshes of coloured light clinging to the cathedral's ceiling, and an aquarium full of exotic fish housed in a traditional red telephone box. 
Other exhibits have included a huge lightbulb-shaped 'moon' suspended above the River Wear and reclaimed Robin Reliant cars with lit-up stained-glass windows.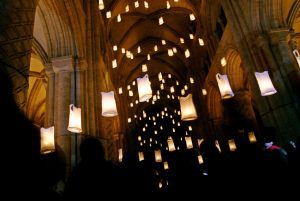 Commissioned by Durham County Council, Lumiere is staged by the arts charity Artichoke. Lumiere is also supported by Durham University, Arts Council England, and a number of other organisations.
2017's event will mark the fifth time that Lumiere Durham has been put on. The last time Lumiere was held in Durham, in 2015, 200,000 people attended the festival and there were 29 light installations.
It is estimated that Lumiere Durham 2015 contributed £9.6 million to the local economy.
Lumiere 2017 will take place from 16th to 19th November. To find out more, please go to www.lumiere-festival.com.
(Featured image courtesy of Kate, from Flickr Creative Commons)