The internationally renowned contemporary dance company Phoenix Dance Theatre is due to perform in Durham, at the Gala Theatre, on March 7th.
Started in Leeds in 1981 by members of the local community, Phoenix Dance Theatre has grown to become one of the most respected arts organisations in the north.
The company has toured many parts of the world and performed at Wembley Stadium, but it retains its community focus by continuing to work with schools, colleges, community groups and local people in Leeds.
Phoenix Dance Theatre will perform three pieces at the Gala: Calyx, a delicate sensuous piece based on the poems of Charles Baudelaire; Beast, a dark questioning work about the anger we carry inside us; and the more light-hearted and playful Maybe Yes Maybe, Maybe No Maybe.
Durham Magazine recently had a chat with the artistic director of Phoenix Dance Theatre, Sharon Watson:
Is it important that Phoenix Dance Theatre is based in the north?
Absolutely. The company has been home-grown from Leeds. Three guys in the community started the company and we've resisted the temptation to move elsewhere because of Phoenix's significance to the community and the region.
So much of the arts is concentrated down in London. It's good to have something in the north as well.
It is. What's really nice is that when we do go to London there's a bit of a buzz around what's going on outside of London. Also, we don't get sucked into what is really a tremendous rat race in London. We don't get saturated with what's going on down there and we have some breathing space.
And I think we're actually a bit of a crown jewel for the north of England because we manage to step into places that other companies don't.
And the company's multi-cultural identity is also important.
It's absolutely significant. It's intrinsic to who we are as people. Phoenix started out as three black guys from the community, and I think our ethos started with valuing people and understanding how people, how diversity is part of who we are.
We've continued that mission over the years and the company is absolutely multi-cultural now. I was recently listing the places from where we've recruited dancers and we have France, Spain, the UK; we have Finnish, American, Chinese, Cuban, an absolute mix, so people can identify themselves with who Phoenix are. It's our mission to be multi-cultural and representative.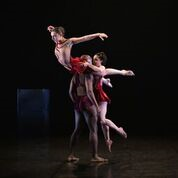 You do lots of work in the community, going into schools, colleges, universities. Is it part of your vision to spread dance among ordinary people?
We don't consider ourselves an elitist organisation; we try to make ourselves as accessible as possible. And that's across the board – it's not just about ticket sales, it's about connecting with our audiences in the community.
The projects outside of our performance work are important because we know that not everybody accesses the arts in the same way so we try to refine and diversify the ways in which people can become engaged as either deliverers or as spectators.
We respect the value of the arts in everyone's life. The arts shouldn't just be for those who can afford to pay for it.
You use dance to connect with hard-to-reach people. What do you think dance can bring to, for instance, troubled young people?
I think that's quite sacred. A dance organisation goes into a community and asks them to give their time and space and to share their ideas. You have to build trust and once that community starts to trust you they will begin to share and put forward some very challenging ideas, so it's quite a unique position to be in.
Sometimes it's about not having to use words. Because if a situation can't be explained otherwise, just being able to be physical about it will enable those young people to build confidence and to find peer relationships that perhaps wouldn't be there otherwise, because the words can sometimes be the things that get in the way.
So just being able to find a way of doing that through the physicality of the work builds trust. It changes the mindset of the young people and encourages them to do things differently.
Sometimes they just want to express themselves and if they don't have other outlets then dance tends to be the place they can do that.
Dance is a universal language that requires no words. It's about creativity and it's about the opportunity for people to tell their stories in different ways.
You've performed in the USA, all over Europe, in South America, the Caribbean. What was taking the theatre to those parts of world like?
It was quite a new concept for some of the places we travelled to. It was a bit like being a pop star – people, especially the young people, wanted to talk to you, to get next to you, have autographs.
I think the work spoke to the young people because the physicality of Phoenix is really quite captivating and very often when people ask what our USP (unique selling point) is, I'd say it's that our dancers are like athletes.
They're at the high end of their game and the choreographers we bring in tend to really thrive on the fact that these dancers can do anything, and that's exciting. There's a real buzz about being able to do something that Joe Public can't do, but our dancers do it and make it look effortless and seamless.
Would you say the physicality demanded from a professional dancer is the same as for a professional athlete?
With the kind of work that Phoenix delivers, absolutely. Physically, our dancers are training at the top end of their game. Dancers, for me, would have had to have done a minimum of three years professional training because the sustainability of their bodies is vital to the work we do and to the choreographers that come in and experiment.
Our dancers have to maintain themselves physically, mentally and emotionally, just like top athletes. They understand how to pace themselves, but when they're actually on the stage, it's like Bolt running the 100 metres.
You organised a mass participation event with Leeds Rhinos rugby league team.
Obviously, we're very proud of our rugby here in Leeds, and we've worked with the Rhinos for a few years. We were at Wembley with them two years ago at the Challenge Cup, which was phenomenal because we won.
We took 450 young people down to Wembley. Some of them had never left their back streets before. They were there celebrating and supporting a successful team and a successful company and they were part of that process.
They were on the pitch for seven minutes, which isn't a huge amount of time, but I'm sure it's something they'll never forget. We try to find ways in which we can work with and stimulate people and rugby's one of them.
We also worked with cyclists when the 2014 Tour de France went through Yorkshire. We delivered a public art performance and we've kept in touch ever since.
We've managed to merge sporting achievement with the arts. That's a really nice combination – it tells people we can do more than just art.
One of the pieces you'll be doing in Durham is Calyx, which explores beauty, duplicity, decadence and eroticism, and is inspired by the French poet Baudelaire.
Calyx is an unusual word. I think what's interesting is that she (choreographer and dancer Sandrine Monin) has taken something that is not physically well-known. When you look at a flower, the calyx is that little bit that sits just underneath the bloom and a world happens in there.
What Sandrine's done is she's taken us into that world before the bloom actually happens and I thought that was fascinating because all of those connections, the eroticism that's mentioned, the beauty, the growth, it all happens in that little pod. We take it for granted that the flower just goes through the roots, the stem and there you go.
She's really been inspired by Charles Baudelaire's The Flowers of Evil, because each of those flowers that she's representing have their own character and that really does come across in the work.
It's her first commission for the company and I'm incredibly proud of her success with it. It's a beautiful piece. It's very intricate and it's quite delicate, but at the same time it has some very robust combinations with duets, beautiful duets. She's done a great job.
Beast seems quite a dark work; a lot of it is about anger.
We go to the opposite end of the spectrum here. I think at some point there's probably that little moment when you've felt either really angry or really confused or uncertain or somehow you want to break out from your internal feelings either physically or emotionally.
What Douglas (Thorpe, the choreographer) has done is capture some of that feeling and that anger, which is played out towards the individuals but also played out in the group.
The physicality of that's really quite empowering. You see the dancers moving through the space and they have these boards. It's a small set and these boards actually become a soundboard for them and they play out their anger against these boards.
I think it's about all of those emotions that sometimes you don't know where to throw but they come back into the self and he's shown that incredibly well. It is a dark piece because sometimes it makes you think about yourself.
Doug's quite a niche choreographer. He's Leeds born, one of those that came out of the community. He's used Beast as an opportunity to share with the audience a language which perhaps is a little uncomfortable, but which is recognisable.
Maybe Yes Maybe, Maybe No Maybe seems more witty and playful. It uses a live mic and combines movement and sound.
This piece could be a good entry point for someone who isn't so familiar with dance. It's still very technical, still very theatrical and physical, but it has a very simple narrative and relationship with sound.
The microphone is almost a performer in itself. It comes into the space, it responds to the space, it responds to the dancers and it gives you another sense of what the dancers' capabilities are.
So the narrative is very simple – how you relate throughout the space and what the space can actually do to the texture of the style one's working with. It's light; it's got humour. It doesn't ask you to do too much thinking. You can sit back and really enjoy what's going on in front of you.
Thank you very much Sharon and we'll look forward to seeing Phoenix Dance Theatre in Durham.
Phoenix Dance Theatre will appear at Durham's Gala Theatre on Tuesday, March 7th at 7.30 pm. Tickets cost £15 (£13 concessions/£12 Gala members) and can be booked by calling 03000 266 600 or going to www.galadurham.co.uk.