Legendary punk poet Dr John Cooper Clarke will perform at Durham's Gala Theatre on Saturday 6th May.
Born in Salford, Greater Manchester, John became well-known in the 1970s as a 'people's poet'. He toured with punk bands, delivering verse based on observations of everyday life and laden with extremely colourful language.
John has supported bands such as The Sex Pistols, The Clash, Siouxsie and the Banshees, and New Order. His poetry has been put to music by The Arctic Monkeys and has featured on the end credits of The Sopranos. One poem has even made it onto the school curriculum.
Dr John Cooper Clarke has appeared on TV shows like Have I Got News for You, Never Mind the Buzzcocks and 8 out of 10 Cats.
He has a new album coming out, on which he will be singing, called This Time It's Personal, made with Hugh Cornwell, formerly of The Stranglers.
The show at the Gala Theatre will feature classic poems, newer material and John's ponderings on modern life. Poets Mike Garry and Toria Garbutt will also be appearing.
Durham Magazine had the privilege of getting together with Dr John Cooper Clarke for a chat:
Your shows seem to mix performance poetry and stand-up comedy, which is something quite unusual. How did this mixture come about?
Well, I guess it's the comedy that makes it a performance. I ain't exactly juggling with chainsaws or anything, you know. The performance is really in the recital of the poetry, but I suppose it becomes a bit more of a performance if there's the odd gag in there. I make it as entertaining as I can, in other words.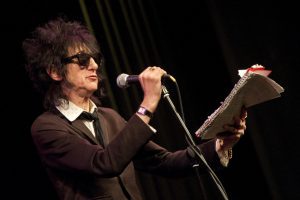 You swear a lot in your shows.
Well, I swear a lot in real life.
Have you ever been banned from anywhere for swearing?
For swearing, no. I'm not a barbarian; I can usually socially navigate situations and adjust my language.
Like any well-brought up young fellow in the 50s and 60s, I was always being told by my parents to stop swearing. They said swearing shows a poor vocabulary, but that's bollocks if you'll pardon the expression. If you have a good vocabulary, you can swear in more exciting ways.
If you look at Roger's Profanisaurus (a dictionary of swearwords published by Viz magazine), you'll see that using profanity by no means marks you out as someone with a limited vocabulary. Even I didn't know there were that many filthy words before I read it.
Being a poet's quite an unusual career, especially for a lad from Salford.
Well, for anybody. If you look at most of the famous poets, very few of them were professional poets. They did other things and wrote poetry in their spare time. I'm among the first professional poets, in fact.
There must be about five full-time poets in the UK, I'd imagine.
Yeah, something like that.
How did you get into poetry in the first place?
At school. We had to learn long epic poems off by heart and I liked it.
Do you think that was good training – learning those poems and their rhythms off by heart?
Absolutely. Great training – I have to do that now to remember my own poems. Mine aren't all epics, actually. They're not all long and rambling; some are just two lines, but – you know what I'm saying? – I think a very good way to absorb poetry is to memorise it.
When you're at school, you're not going to understand it; it's written by an adult and you're a child, so you learn the words off by heart and then 30 years later you might achieve some understanding of that poem. It's a kind of delayed reaction – you learn it first and understand it much, much later. A lot of poetry works that way.
Is it true an early influence on you was Pam Ayres? (a poetess who wrote about everyday life and appeared on 1970s talent show Opportunity Knocks)
Yeah, well not an early influence, the early influences came at school – the likes of Sir Henry Newbolt and Alfred Lord Tennyson – but I got my inspiration from Pam Ayers.
Writing poetry is the thing I do best of all. I was determined to one day become a professional poet and make a living out of poetry, but I was discouraged at every turn, mainly through kindness, you know.
People would tell me what I've just told you, that few people have made a living out of poetry alone, but I thought you could. As long as you recite it in showbiz kinds of places, I thought you could make the incongruity of the whole thing work in your favour. But people would say, "Nah, nah, you'd have to get a job as a librarian or in further education", do you know what I'm saying?
The opportunities were limited back in those days, but I was like, I'm sure you could make a living at it in a showbiz kind of way – look those people in the music hall days who used to do monologues. More people like poetry than people give it credit for.
People were saying, "Nah you'll never make a living out of it", and that's when Pam Ayres started coming top on Opportunity Knocks, week after week after week, every week for a year. It was kind of the X Factor of its day, you know, and she was this humble young woman from Banbury, Oxfordshire, winning week after week.
I could kind of point to her as an example of the punters' choice. I mean, her stuff isn't really like my stuff. Put it this way, she writes about her world, I write about mine, you can't ask for more than that, can you? But we've got more in common than we have differences.
What I'm saying is I took a great deal of inspiration from her success – she was someone I could point to who was making a living out of writing and reciting poetry. Don't think that my stuff is like Pam's though. With Pam's there's a good deal less swearing for a start.
Almost all your poems rhyme. That's quite unusual in modern poetry. Why are you so fond of rhyming?
It was seen as very old-fashioned when I started doing it. The few poets that I ever met in my early days, my pre-punk days, they didn't rhyme stuff. It was considered very old-fashioned, but I prefer to see it as traditional.
To me, to eschew rhyme would be counter-intuitive. I do write some stuff that doesn't rhyme, but it's got some other groove going, some other dynamic going for it, and I can't really explain how that works. But with all poetry, there's a certain kind of magic about the whole process that I don't care to overanalyse. I'm a bit superstitious about it.
You were strongly associated with the punk movement and you toured with people like The Sex Pistols, The Fall, The Clash. Do you have any particular memories that stand out from that time?
I don't have any particular memories because I was at work. I was looking after my end of it and they were looking after their end of it. I'm sorry to disappoint you, we were all looking after our own ends.
The thing you have to remember about punk – which is very quickly forgotten – is that most of the people who talk about punk are the second wave that were politically engaged in some way or another.
You could be forgiven for thinking punk was some kind of socialist cooperative, but that wasn't the punk rock world I remember. It was hyper-competitive – "Don't watch that, watch this! Everybody sucks but us!" That was the attitude of every punk I ever knew. And I was no different from that. As long as I came out of it looking OK, I didn't give a fuck about any fucker else.
Was going out on stage before the punk bands a bit nerve-wracking?
Absolutely, because punk was very confrontational and it was – what's the word? – it was the wild frontier. But it presented itself to me at just the right time. It gave me a platform. It was in all the newspapers; it was where all the crowds were heading.
Before that I used to perform at cabarets, anywhere that would pay. But to have a specific platform and to nail my colours to the punk mast was very advantageous indeed. So I figured it would be worth putting up with a bit of aggro at the beginning in exchange for a much bigger audience and – not only that – but a much more international audience. Being involved with the punk rock phenomenon really got me around the world.
So it was great; it was very fortunate for me. I made a good decision to be seen as part of that.
Also, there was a lot of poetry being talked about in the first wave of punk. It was the New York thing, so you had Patti Smith and Lou Reed, Richard Hell, people like that from CBGB (legendary New York punk club). They'd all pledged allegiance to various late 19th century French poets like Artur Rimbaud and Charles Baudelaire.
Those poets very much informed the lyrical content of the New York punk scene in the mid-to-late 70s so I thought, well, there is a place for poetry in this savage form of rock 'n' roll.
You got one of your poems – I Wanna Be Yours – on the National Curriculum.
Yeah, that's right, it's also the last track on the AM album by the Arctic Monkeys, which was far and away the biggest smash hit album internationally in 2014. To be included on that was sensational. I was also included on Plan B's Ill Manors album, which went to the top of the charts too. So I'm associated with success and that's very nice.
What do you think about kids in school reading your poem?
Why not? It's a lot easier to remember than The Lady of Shalott. At least mine are only one page long. In fact, the one you mentioned is only three verses. They've got it easy today – they don't know how lucky they are. Hey kids, thank God for me!
Actually, it was at school that Alex Turner (of the Arctic Monkeys) came across my stuff and it obviously made an impression on him, so thank you very much school teachers of Britain.
I heard that back in the day you toured a lot with Linton Kwesi Johnson. (Famous British-Jamaican dub poet)
I did one tour with him in 1981. That was quite an extensive tour and we've done bits and pieces ever since. I did work with Linton a lot.
My main memory of that tour is when we finished up in London, me, him and Darcus Howe went to the airport to pick up a guy called – he was a cricket pundit and a Marxist polemicist, sadly he died last year or the year before – C.L.R. James. I don't know anything about cricket, but ask anybody about him, C.L.R. James, he was a world class cricket pundit and Marxist polemicist. When people used to accuse him of digressing from the game of cricket, his repost was always, "What do they know of cricket who only cricket know?" Remarkable bloke.
I was living in Brixton at the time so I was king of the neighbourhood for quite a few months after being seen around with those guys. So that was me, the late Darcus Howe and the late C.L.R. James and the happily-not-late Linton Kwesi Johnson.
One of your poems, Evidently Chicken Town, was on The Sopranos. How did that come about?
No idea. I was just informed they were going to use it. At the time, I wasn't speaking to any record companies or anything so it took me by surprise, but it was a really nice surprise. I'm a massive fan of the show so to have anything to do with it at all was amazing.
Is it true you did an advert once for sugar puffs?
Yes, I did, in the mid-80s. I was the Honey Monster's first sidekick. After that, the Honey Monster had many sidekicks, but before me he'd been a solo act. After that, there was Kevin Keegan then quite a few celebs lined up as the Honey Monster's sidekicks, but I was the first one. It was a great advert.
Thanks very much John and we'll look forward to seeing you in Durham.
Dr John Cooper Clarke will be performing at Durham's Gala Theatre on Saturday 6th May at 7.30 pm. Tickets cost £21 and can be bought by going to www.galadurham.co.uk, by phoning 03000 266 600 or by visiting the Gala's box office in person.