From Land Girls

, Lumberjills and the Home Guard to military vehicles, fun family activities and ration cooking, there's so much to discover at Beamish, The Living Museum of the North during Dig for Victory this week.
Set in and around The 1940s Farm, the popular event, which runs from 2nd to 5th September, tells the story of life on the Home Front and the vital support role the British countryside played during the Second World War.
Paul Foster, Beamish Historic Events Officer, said: "We're really looking forward to Dig for Victory. Visitors can enjoy firing demonstrations, live music, meet soldiers and farm workers and see military vehicles, there'll be lots to see and do.
"It's fantastic to be running events again at the museum after what has been a very difficult time. We have a range of COVID-19 Secure health and hygiene measures in place, including pre-booked entry timeslot tickets. We have also been awarded the 'We're Good To Go' standard, so be sure to book your timeslot tickets for Dig for Victory and other upcoming events!
"As with all daytime events, visitors can use their Unlimited Pass or Friends of Beamish membership to enjoy Dig for Victory."
On all four days, be sure to pick up your identification card at the sentry box at The 1940s Farm and pop up to see a small army encampment with equipment, tents and, of course, soldiers to chat to. Plus, have a go at a fun, family activity in Orchard Cottage.
Marvel at military vehicles including jeeps, half-tracks, trucks, universal carriers and motorcycles as they travel around the museum site. There will also be 1940s displays on the Events Field including Second World War British and American vehicles.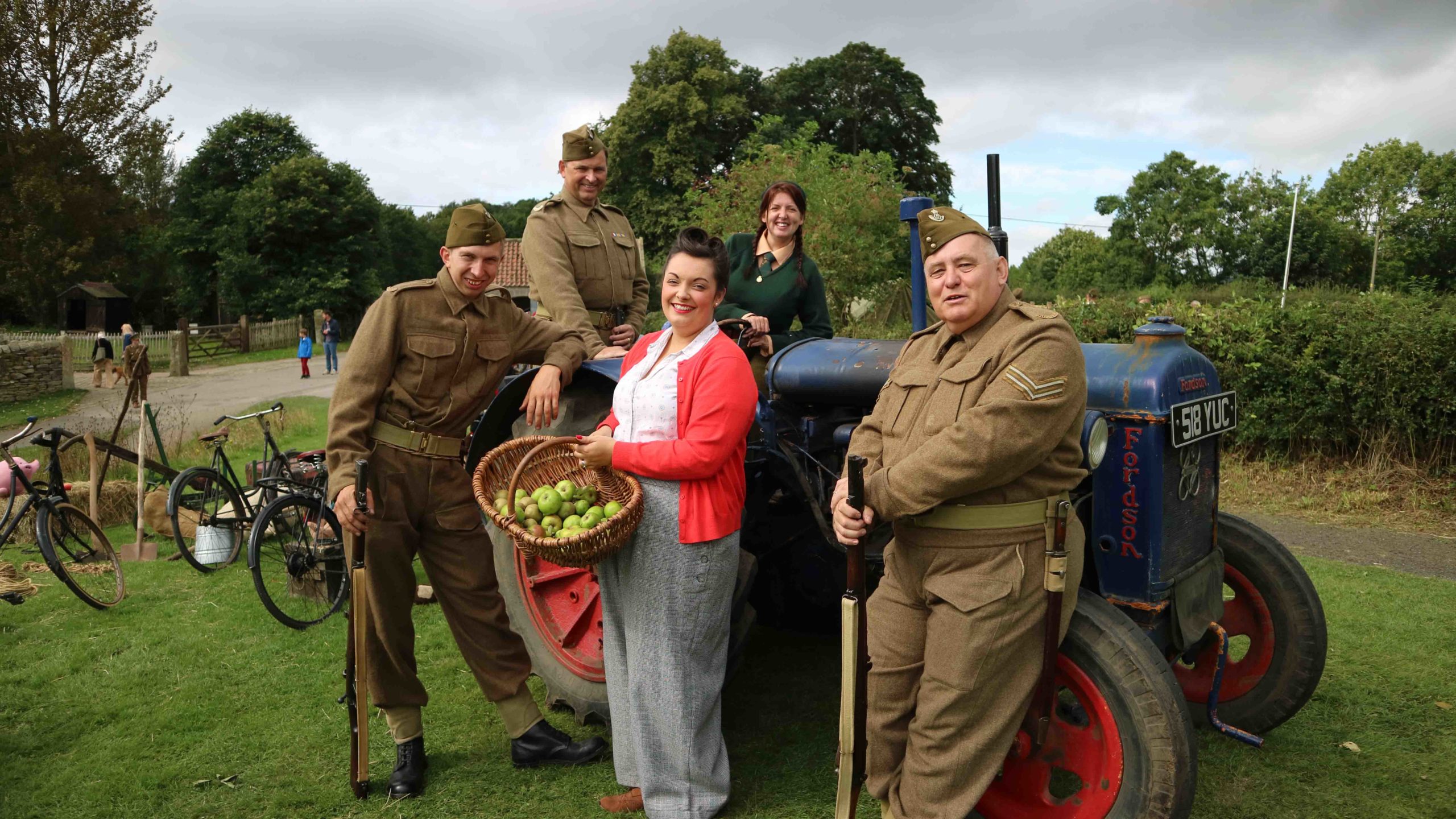 There will be a Civil Defence display from Friday to Sunday, plus, during the weekend, visit Lumberjill hill to see demonstrations and learn about the role women played during the Second World War.
Also on Saturday and Sunday, see the Durham Light Infantry encampment, discover fascinating facts about the group and be amazed at firing demonstrations, and be sure to visit the farm's forge to see the blacksmith hard at work.
There will also be 1940s dance demonstrations throughout the weekend, plus enjoy live music by Argosy Saxophone Quartet from 1pm to 1.40pm and 2.30pm to 3.10pm on Saturday. On Sunday the Ragtime Rewind Swing Band will perform from 1pm to 1.45pm and 2.30pm to 3.15pm. Live music performances will take place in the band hall in The 1900s Pit Village.
All areas of The 1940s Farm will be open for the event (except British Kitchen), visitors can take a walk around the cottages, see the farm animals, visit Garden Cottage and Orchard Cottage, and pop into the farmhouse where you can find out about jam making or make do and mend.
There are lots to see and do during a visit to Beamish. Take a walk down an Edwardian cobbled street, chat to cheerful costumed engagers and try tasty treats from times gone by. Find out fascinating facts, explore the history of the museum across its 50 fantastic years, and discover the various stories the museum tells in its exhibits, most of which have been moved brick by brick from around the region to Beamish.
In The 1900s Town visit exhibits including the bank, bakery, chemist's, Co-op, Masonic Hall, Ravensworth Terrace (downstairs), park, garage, stables (viewing only) and sweet shop. Enjoy refreshments from the Tea Rooms (takeaway and sit-in options available) and takeaway treats from The Sun Inn pub and ice cream kiosk.
Plus, follow in the footsteps of the Downton Abbey stars! Beamish featured in the Downton Abbey movie and TV show, which was a huge hit worldwide. Filming took place in The 1900s Town and involved museum staff, exhibits and vehicles.
Pop over to The Fairground by The 1900s Town and have a go on the gallopers, helter-skelter, chair-o-planes and sideshow (small charge applies to Fairground activities). Takeaway treats are available from the catering stall during weekends.
In The 1900s Pit Village see what's growing in Francis Street gardens and take a peek inside some of the cottages, visit the band hall, school, chapel, stables (viewing only) and enjoy takeaway traditional fish and chips from Davy's fish and chip shop. Plus, the Sinkers' Bait Cabin and Miners' Institute are also serving takeaway treats (Miners' Institute weekends only).
In The 1900s Colliery visit the lamp cabin, engine shed, heapstead and winding engine house. The Colliery Railway is operating every Friday at the museum (viewing only).
Visit The 1820s Landscape and see Pockerley gardens (be sure to admire the stunning views!), go inside the new house (downstairs only) and old house and pop over to the stable yard. Visit St Helen's Church and take a peek inside the quilter's cottage, plus, take a ride through the Georgian landscape on Pockerley Waggonway.
The 1950s welfare hall is also open, including takeaway food every day, plus the museum's buses are running and the wheelchair-accessible vehicles continue to operate.
Beamish has a range of COVID-19 Secure health and hygiene measures in place across the museum, with the safety of visitors, staff and volunteers as the top priority and in line with industry best practice and guidance issued by the Association of Leading Visitor Attractions. These include pre-booked timeslot entry tickets, use of face masks, reduced capacity to manage the number of visitors and allow space, enhanced cleaning, hand sanitiser stations, one-way systems and contactless card payments. The museum has been awarded the "We're Good To Go" standard.
All visitors must book a timeslot entry ticket online in advance, visit www.beamish.org.uk. Beamish is open daily from 10am to 5pm.
The museum is continuing to follow government and public health COVID-19 safety guidance and reserves the right to alter events, activities, facilities, operations and opening times without prior notice.
Find out more and book your visit to Beamish, see www.beamish.org.uk.