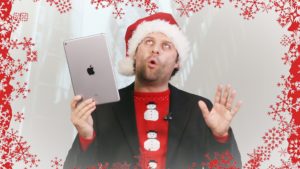 As Christmas approaches, Durham County Council is urging anyone worried about debt to speak to their local credit unions. With weekly payment stores charging several times what goods are worth and payday lenders offering loans at exorbitant rates of interest, the council is encouraging people to save themselves from unfair and unmanageable levels of debt.
The council is working with Prince Bishops Community Bank and the North East First Credit Union, the two largest credit unions in County Durham, to get the message out that they can offer their members sensible loans and effective saving plans.
Councillor Neil Foster, Durham County Council's cabinet member for regeneration, said, "Christmas is meant to be a time of happiness and joy, but with parents feeling under immense pressure to buy their children the latest toys and gadgets it can also be a time of great stress and worry about money."
To support the credit unions, the council has issued an Apprentice-themed promotional video to raise awareness of the dangers of weekly payment stores.
The video demonstrates how a credit union loan could save a consumer £1000, by making it possible for them buy a £500 iPad outright. If the same consumer had signed up for weekly payments, they would have eventually forked out £1500 for the same gadget.
Councillor Foster said, "The video highlights just one of the many stories we've heard as part of our ongoing work with credit unions."
"A loan from a credit union can stop you having to pay three times as much for the same item at a weekly payment store or save you from paying hundreds of pounds in interest payments on short-term payday loans."
"This year we're desperate to encourage people to give themselves a truly merry Christmas by talking to their local credit union."
"They lend money to their members even if they've got a poor credit history, but they won't charge over the odds to do so. And, if you're looking for someone to save with, you can help your local community at the same time by saving with a credit union, knowing you'll be helping to put loan sharks and people who prey on the vulnerable out of business for good."
County Durham's credit unions currently have over £3 million deposited with them. Durham County Council's staff alone have saved and borrowed over £750,000 with credit unions over the last three years as part of a salary savings scheme.
Like all building societies and banks, Prince Bishops Community Bank and the North East First Credit Union are regulated by the Prudential Regulation Authority and the Financial Conduct Authority. The credit unions are also part of the Bank of England's financial compensation scheme.
People can discover more about their local credit unions at www.durham.gov.uk/financialhelp. The website also contains a link to information that can help anyone who is having trouble with debt or struggling to manage their money.
Save