Children from across County Durham have taken part in their own version of the Eurovision Song Contest.
Over 300 children from 24 schools were in Durham City last week to participate in the fourth annual Song for Europe competition, organised by Europe Direct Durham.
During the contest, the pupils – aged nine and ten – got to boost their language skills by performing songs in languages other than English.
This year's competition saw children singing in languages including Italian, French, German, Portuguese and Albanian.
The scoring method is similar to that used in the Eurovision Song Contest, with the acts being awarded points by their competitors, which are then added up to reveal the contest's winner.
This year's victors were Newbottle Primary Academy from Houghton-le-Spring. Newbottle's rendition of Chu Chu Ua got the whole of the audience singing along and copying their actions.
Second place was clinched by St Aloysius RC Junior School from Hebburn. The St Aloysius pupils performed Mercy, which was the French entry in this year's Eurovision Song Contest.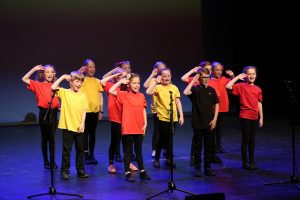 The Europe Direct Durham Centre is hosted by Durham County Council. The chairman of the council, Cllr John Lethbridge, said, "I was thoroughly entertained by the talent on display and want to congratulate all the pupils on their hard work in learning a song in another language."
"Fun, interactive activities like this instil a love of languages at a young age as well as helping children learn about other cultures."
County Durham does seem to be setting the pace when it comes to language learning. Recently, it was announced that 44 language teachers would go abroad to take part in language courses in France and Spain.
In addition, the Spanish ambassador recently paid a visit to County Durham, during which he talked with those teaching and learning Spanish. Durham County Council and Durham University have been working with the Spanish Embassy to establish a programme to support the teaching of Spanish in the county.