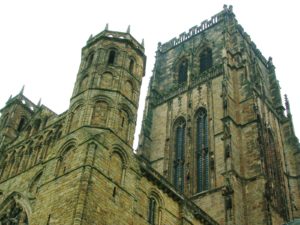 Durham Cathedral's Undercroft Restaurant has been rated as one of the UK's best tourist eateries. The Undercroft Restaurant came third in a Soil Association league table of twenty eateries at popular visitor attractions.
The Soil Association's Out to Lunch Survey, which rates children's food and drink provision at tourist hotspots, published its league table in late October. The Out to Lunch Survey sends 'secret diner' parents to the restaurants of various tourist attractions around the country to check up on quality and service.
In the latest survey, the secret diners uncovered unhealthy prepacked lunches, questionable ingredients and a lack of transparency over the sourcing of ingredients at the eateries of well-known art galleries, zoos, museums, visitor centres and theme parks.
The survey found that 75% of kids' lunchboxes didn't include any veg or salad, that burgers were often loaded with monosodium glutamate, and that many meals were filled with e-numbers known to have bad effects on children's behaviour.
Only a minority of attractions used British ingredients throughout their menus and some refused to serve tap water.
The Soil Association found that only 14% of parents think the kids' food at popular attractions is good enough.
Good practice was also noted, however, and the Undercroft seems to have got glowing marks. The restaurant got brownie points for its locally sourced ingredients and for providing kids with the option of having smaller portions of adult meals.
Durham Cathedral was the only attraction to ensure that all its meat was free range, with the Undercroft receiving commendations for its higher welfare chicken and pork.
The Undercroft also scored highly for providing children's cutlery, high chairs and baby changing facilities, which all contributed towards the restaurant's family friendly atmosphere.
Have you tried this week's #TasteDurham dish?@durhambrewery beef stew & @durhamcathedral herb garden dumplings! @Venuelior #TasteDurhamMonth pic.twitter.com/5igrm17pWh

— UndercroftRestaurant (@DCathRestaurant) October 27, 2016
Vanessa Ward, head of business and commercial services at Durham Cathedral, said, "Durham Cathedral is one of the most visited attractions in the north east and a popular destination for families."
"The Undercroft Restaurant works hard to ensure that families can enjoy healthy and wholesome food during their visit."

"The results of this survey stand testament to the hard work of our staff, and we will continue to improve the service we offer to ensure our visitors have the best experience possible."
The number one spot in the Out to Lunch Survey was snatched by the Eden Project, in Cornwall. Chester Zoo got second place, with Durham Cathedral coming in a very respectable third.
The Soil Association is a charity that promotes environmentally friendly food, organic farming and animal welfare.
For more information, you can visit the Soil Association website at www.soilassociation.org/outtolunch
Save