Durham County Council seems to be clamping down on unusual means of advertising. Recently, two cafes – which have been using bicycles parked on the pavement to grab the attention of customers – have been told to wheel their bikes away.
And the council has even had a word with Durham Constabulary over their use of pink bicycles. The police were using the colourful bicycles as part of a campaign to encourage cyclists to use bike locks in order to discourage thieves.
The council says it has acted following complaints. 
The owners of Dark Matter, a Crossgate café, gaming venue and comic shop, have been asked to remove a bike that has been advertising their business since the end of 2013. The wheels of the bright red and yellow bicycle are painted with slogans aimed at enticing customers. 
Dark matter cafe in #Durham yesterday @darkmattercafe #lovedurham pic.twitter.com/F6q2AXuQ70

— pixelritch (@pixelritch) August 21, 2016
One of the owners, Dan Pye, said, "They said it's illegal, but I think it's a grey area because it's a mode of transport which was parked legally and just happened to have some signage." 
"About two-thirds of people say they find us because of the bike. It looks better than an A board and it was in the character of the city. I think people are annoyed because it's a bit quirky."
Another café, Crushed Chilli Gallery, has also been contacted by the council. The café's owner, artist Janet Rogers, had been using a stained-glass bicycle for half-a-decade to advertise her business. 
Ms Rogers said, "I'm a bit disappointed. It's been there for five years and I felt I always kept it nice. There aren't many other stained-glass bikes and it did help to get people to walk round the corner (to the café)." 
Durham County Council said that in response to a complaint from a member of the public "we contacted the (café) owners, notifying them that their adverts were illegal and requesting they be removed." 
"We understand the need to advertise businesses, but this needs to be balanced against the impact that such ad-hoc adverts have on our historic city and World Heritage Site."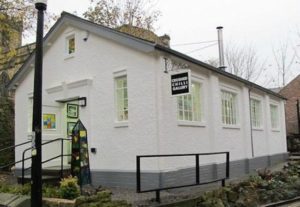 Durham Constabulary said, "Earlier this week the issue of the pink bikes was raised by the council's enforcement officer following a complaint from an owner of other advertising bikes."
"We already had plans to remove the bikes as they were looking past their best. We regularly look at new ways of getting our messages out and the bikes have fulfilled the main aim of helping us promote bike security."