An ancient building which has been at the centre of life in Durham City for more than 600 years will now be open to the public for free.
Durham Town Hall, located in the city's beautiful Market Place, will be open to visitors every Saturday.
And, as well as having access to the stunning building, guests can take advantage of exhibitions, two short films and an audio guide – all free of charge – to learn more about Durham's history.
Visitors can learn about a variety of topics, including the Prince Bishops – who were a powerful force ruling County Durham in the 11th century – and the role of the mayor and mayor's bodyguard, who have been based at the Town Hall since 1602.
There will also be information on Durham's trade guilds and freemen of the city, who for centuries had a huge influence on Durham's political and economic affairs and who still meet in the building's guildhall today.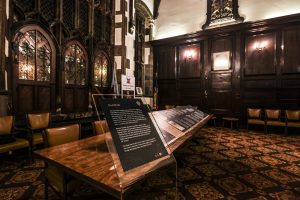 Visitors can also find out about the development of local government over the centuries and see how Durham Town Hall evolved from a timber structure built in 1356 to the magnificent building it is today.
One of the short films will narrate the story of the Town Hall's history as a courtroom, giving often grizzly details of crime and punishment. The other short film – made by the local amateur filmmakers Hill Valley Creative – is a documentary, which features the music of local band Whisky Priests.
The displays give rich accounts of local stories, including the lives of colourful Durham characters. One such individual is Joseph Boruwlaski. Known as the Little Count, Boruwlaski was a Polish nobleman who was just three feet three inches tall. Born in 1739, he spent much of his life in the royal courts of Europe before retiring to Durham and passing away at the age of 98.
Durham County Council's cabinet member for tourism, culture, leisure and rural issues, Cllr Ossie Johnson, said, "The Town Hall is one of Durham's oldest and most historic buildings."
"It's a very beautiful building both inside and out and it also has some thoroughly fascinating stories to tell."
"Visitors will not only get the chance to take a look around, but – thanks to new facilities like interpretation panels and audio guides – they can find out more about the history not just of the Town Hall but also the city of Durham."
"I'm sure many people pass the building on a daily basis but have never taken a look inside, but now they have the opportunity to do just that."
Durham Town Hall will be open every Saturday between 10.00 am and 3.00 pm. To learn more, please call 03000 267 955 or email [email protected].