County Durham residents will soon be able to fill up their water bottles for free at parks, theatres, museums and council offices.
In partnership with Northumbrian Water, Durham County Council has joined the Refill campaign – which is a national scheme aimed at cutting plastic waste.
Places offering the free water will be signposted, but they can also be found by using the Refill mobile phone app. The app can be downloaded for free from the Google Play or Apple App Stores.
A range of council-run locations can already be found on the app, including the reception areas of Durham County Hall, Crook Civic Centre and the council offices at Green Lane in Spennymoor.
Also included are the customer access points in Consett, Barnard Castle and Seaham, and the cafes at the Gala Theatre, Wharton Park, Locomotion, the Durham Dales Centre and Killhope Lead Mining Museum.
As well as council-run venues, a number of shops and businesses are taking part in the scheme.
The Refill campaign is working with water companies across England and it hopes to have tens of thousands of council offices, shops, cafes, businesses and public buildings involved by 2021.
The campaign hopes to reduce plastic bottle usage by tens of millions of units per year. There are now over 12,000 Refill stations in the UK and over 65,000 apps have been downloaded.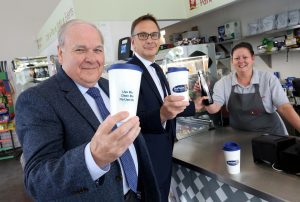 Durham County Council's cabinet member for neighbourhoods and local partnerships, Cllr Brian Stephens, said, "We all know the devastating impact that plastic waste can have on our environment – particularly oceans and marine life – and that there is a real appetite to reduce the amount we throw away."
"As a council, we are tackling this in a number of ways, from encouraging our staff to drink from reusable coffee cups to making changes to the confetti we use in the Gala Theatre pantomime."
"We also have a responsibility to help the public to tackle this problem, by reducing single-use plastic like disposable water bottles whenever possible."
"We are therefore delighted to be able to sign up our sites to join Northumbrian Water and local businesses by making it as easy as possible for people to stay hydrated through the Refill scheme."
The finance director of Northumbrian Water, Chris Johns, said, "The Refill campaign is a fantastic opportunity for people to play their part in protecting the environment, reducing their dependency on single-use plastic bottles by topping up their water bottles for free at locations across the region."
"We first launched Refill in Durham at the end of 2017 and since then it has gone from strength to strength across the county and the north east as a whole, with more than 500 refill stations already signed up."
"Durham County Council joining up to Refill is fantastic, not only demonstrating the local authority's support for the campaign, but also opening up a number of new venues where members of the public can top up with great quality water, stay hydrated and help protect the environment."
You can learn more about the Refill campaign by visiting https://refill.org.uk/.