McMillan Cancer Support is looking for people in County Durham who can help shape cancer advice and support services.
McMillan's Joining the Dots project would like to find people who have been affected by the disease and are willing to share their experiences.  
Such people could become 'volunteer coproducers' whose duties would include helping to improve access to support services, attending various events and taking part in activities. 
The volunteers would also help to monitor the progress of the project, participate in training sessions and attend monthly meetings.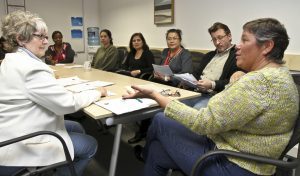 Joining the Dots, which is a partnership between Durham County Council and McMillan Cancer Support, seeks to improve access to cancer support services while focusing on the individual needs of each person the disease affects. 
The project manager of Joining the Dots, Kirsty Wilkinson, said, "Everyone's cancer journey is different, but by using their personal experience of cancer support services, whether good or bad, coproducers play an important role in helping us improve services for others."
Volunteer coproducers will be chosen based on their personal experience and on their knowledge of the practical, emotional, spiritual, relationship and lifestyle issues people face who are affected by cancer. 
The volunteers should live in County Durham and should have good interpersonal and communication skills. They should be willing to take part in training and to attend activities and events.
Volunteers should also be able to attend a monthly meeting, which lasts for two hours. Any expenses will be paid by Durham County Council.
To learn more, please contact the Join the Dots team by phoning 03000 267 345 or emailing [email protected]. You can also contact the team by text on 07826 902 672.
The deadline for applications is 5 pm on Thursday April 13th. 
According to McMillan Cancer Support, in 2016 there were 2.5 million people living with cancer in the UK, a number which is expected to rise to 4 million by 2030. Between 2010 and 2015, cancer survival rates increased by 21% and people are now living ten times longer after a cancer diagnosis than 40 years ago.