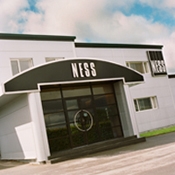 A planning application has been submitted to Durham County Council to turn the former site of the Ness Furniture Factory into a business hub.
The ex-factory is located near Croxdale, which is between Durham City and Thinford just off the A167. Originally the home of a WWII munitions plant, the site housed the Ness Furniture Factory from 1945 to 2015. The closure of the Ness Factory resulted in the loss of dozens of jobs and 6,400 square metres of commercial space becoming vacant.
New Equipment Holdings, the company that has owned the site for over 70 years, has now requested permission to split the factory buildings up into separate units. The company also plans to refurbish some sections of the factory while demolishing other parts.
The company's application states that rather than letting the site "as a whole to a single occupier" the ex-factory would be "much more attractive to the market as a series of smaller self-contained units".
The transformed site would include offices, yards, warehousing space and distribution depots. Though the furniture plant had a reputation as a noisy factory, the planning application stresses that the site now aims to attract firms of a "less industrial nature" which are "better suited to the location of the site."
The site already hosts several car dealerships and a car repair shop.
The planning statement submitted on behalf of New Equipment Holdings states, "We are confident that if these proposals are approved by the council that this can become an attractive thriving estate which will add further employment opportunities in the area."
Senior planning officer for Durham County Council, Barry Gavillet, has recommended that the application should be accepted. Mr Gavillet said, "The proposed development would enhance the character and appearance of the area and would present new opportunities for continued employment on the site."
Durham County Council's planning committee will meet at County Hall on 10th January to make a decision on the application.