A fashionable version of the traditional jumble sale will be hosted in Durham next month. The 'swishing' event will encourage people to donate or swap their unwanted clothes instead of throwing them away.
Clothes destined for a life at the back of the wardrobe or bound for the bin can be exchanged for other people's garments in a similar condition. 
1.4 million tonnes of clothes and textiles are thrown away in the UK every year. A staggering 30% of these – worth £30 million – have never even been worn. 
Wasting clothes and textiles has an impact on the environment. The clothing sector in the UK last year generated 26.2 million tonnes of CO2.  
The swishing event, organised by Durham University and Durham County Council, will take place at St Nicholas' Church in Durham Market Place on Wednesday 8th November.
Clothes and textiles – which should be clean and in good condition – can be dropped off between 1.30 and 2.00 pm. 
People can then return between 3.00 and 5.30 pm and browse the items donated by others. Participants will be allowed to take away the same number of items as they have donated. 
Refreshments will be provided and the event is free, though small donations are welcome. Any clothes that stay unclaimed will be given to charities.
People are encouraged to donate textiles, accessories, and men's, women's and children's clothes. For hygiene reasons, the organisers are unable to accept socks, underwear, swimwear and earrings.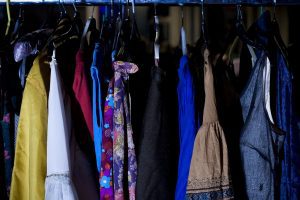 Durham County Council's waste strategy team manager, Victoria Burrell, said, "Swishing is the perfect platform to swap unworn or unwanted clothes, accessories, shoes or textiles to prevent them being thrown away."
"It's a great way to get friends and colleagues together to take part in guilt-free, inexpensive 'shopping', and, most importantly, it reduces our clothing carbon footprint by reusing, re-wearing and re-loving items."
Paul Riddlesden, interim energy and sustainability manager at Durham University, said, "We're working with Durham County Council to promote the benefits of clothing reuse and reduce the amount of clothing discarded in household waste."
"This is a fantastic opportunity for students and the wider community to attend a swishing event. People can select nearly new clothes in exchange for donating their unwanted items."
For tips on reusing, reviving or recycling clothing and textiles, please visit www.durham.gov.uk/clothesrecycling.
(Featured image courtesy of Connie, from Flickr Creative Commons)