The iconic and influential 1960s band The Searchers are due to play Durham's Gala Theatre.
During a decades-long career, The Searchers have played alongside The Beatles at the legendary Star Club in Hamburg, toured with Motown greats and with The Rolling Stones, and influenced some of the world's most famous rock stars.
They have been praised by Tom Petty and Bruce Springsteen while 1960s heroes The Byrds said The Searchers were a bigger influence on them than The Beatles. Another fan was punk rocker Marky Ramone, who once sat in on drums with The Searchers and revealed that his group The Ramones were huge fans of the band.
The Searchers started out playing skiffle (a mix of folk, jazz and blues that used 'instruments' like washboards and milk jugs alongside guitars) in their native Liverpool before graduating to more of a jangly pop sound.
Over the years, the band have been through numerous line-up changes, sold over 50 million records, toured all over the world, and played to tens of thousands at Wembley Stadium supporting Cliff Richard.
The Searchers are still going strong today, playing between 150 and 200 concerts a year.
Their discography includes classic songs such as Sweets for my Sweet (their first single, which reached number one), Sugar and Spice, Needles and Pins, Don't Throw Your Love Away and What Have They Done to the Rain?
Durham Magazine recently got together with bassist and vocalist Frank Allen, who has been with the band since 1964, for a chat:
The Searchers began as a skiffle group in the late 1950s. Skiffle was quite a craze at the time. Why did it have so much impact?
Skiffle allowed us kids who couldn't really play the guitars we had just bought to get on stage in front of people with just three chords and no expensive equipment and gain confidence and believe we could perform in public with little or no actual talent. It was an invaluable learning curve.
You played in The Star Club in Hamburg alongside bands like The Beatles and Jerry and The Pacemakers. That must have been an incredible experience.
That was before I joined The Searchers, but it was at The Star Club where I first met them and made friends with them. I was a member of Cliff Bennett and the Rebel Rousers. It was a terrific club that not only featured groups from Liverpool and London, but also brought over genuine American stars.
I was able to see people like Gene Vincent, The Everly Brothers, Bill Haley, Bo Diddly and so many others. It was a privilege to share the stage with such legends. But it was hard work, usually three or four hour sets spread over the evening.
How did it feel when your single Sweets for my Sweet hit number one?
Again, that was before my time, but I can imagine the sheer excitement and thrill. There is nothing like that first hit and to have a number one would be amazing having just been signed to a record company.
You toured Australia and parts of the Far East with The Rolling Stones back in 1966. That must have been quite an experience.
It was very interesting and also traumatic. Our drummer Chris Curtis, who was the frontman and star of our show, had discovered the joys of amphetamines and was behaving very oddly.
He fell off the Sydney Stadium stage and collapsed immediately before we were due to walk onto the set of a TV show. In the end, we had to call the promoter to get him under control and he threatened to call the cops if Chris didn't toe the line.
So we were touring with the bad boys The Stones, and there we were, the squeaky clean Searchers, about to be involved in a drugs scandal.
I never really got to speak to The Stones much or get to know them except for Charlie and Bill, who were very normal and very sociable. Nice people. As I'm sure were the others, but they scared me a little so I kept my distance.
You played in America with Motown legends like Marvin Gaye, The Supremes, The Temptations. What was that like?
Amazing. It was seven days at the Fox Theatre, in Brooklyn, and we played six shows every day from 10.00 am to 10.00 pm.
The bill was The Searchers, Dusty Springfield, The Supremes, Martha and The Vandellas, Smokey and The Miracles, The Temptations, The Contours, Little Anthony, The Shangrilas, The Ronettes, The Dovels, Jay and The Americans, and The Newbeats.
Today those names are revered as legends. Back then British was best and they were not too bothered with their homegrown soul talent so we were for the most part the stars of the show.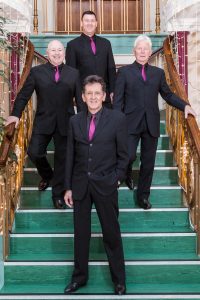 At Wembley, in 1989, you played two shows, to 75,000 people on each occasion, supporting Cliff Richard. How does it feel to play in front of such an enormous crowd?
It would have been frightening, but we were only on for two songs so it was all over quickly. But it was an incredible experience. Cliff has been a great supporter and we've done a number of shows with him, including Millennium New Year's Eve at the National Indoor Arena in Birmingham.
You've had some famous fans over the years – Bruce Springsteen, Tom Petty, even Marky Ramone. Why do you think The Searchers were such an influence on them?
The Beatles created a new wave of pop and teenage American musicians leapt onto it, and, of course, we played our part.
Our sound, with the jangly twelve-string guitar, set us apart from other bands, and people like Petty, Springsteen and The Byrds loved it. You can hear our influence on many of their records.
Marky Ramone, the drummer with The Ramones, sat in on Needles and Pins in 2008 at The Cutting Room in New York. They had recorded that song on an album and were big fans.
You're still touring all over the UK and all over the world today. Do you ever feel like slowing down or is your energy and enthusiasm as high as ever?
My enthusiasm for travelling up and down motorways is diminishing rapidly, but my love of going on stage and entertaining still gives me the same buzz as it always did.
Many thanks, Frank, and we'll look forward to welcoming The Searchers to Durham.
The Searchers play Durham's Gala Theatre on Sunday, 21st May at 7.30 pm. Tickets for the show – which will include stories and anecdotes as well as well-known hits – cost £21. They can be booked by calling 03000 266 600 or visiting galadurham.co.uk.