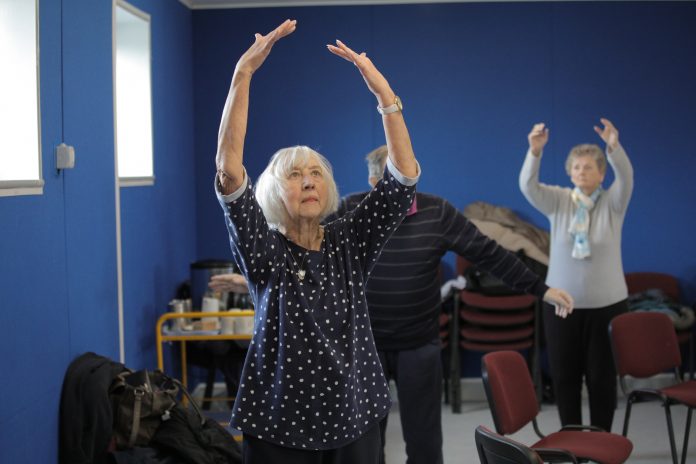 North East arts charity, Helix Arts, is inviting people aged 65 and over in East Durham to join a new online community where they can stay fit and active, and connect with others during the coronavirus pandemic.
The charity has moved its hugely popular dance and health programme, Falling on your Feet, online so people who are shielding at home, or unable to meet with friends and family in person, can get creative and look after their physical and mental wellbeing at the same time.
Cheryl Gavin, Director at Helix Arts, said: "There are many people in our communities that are unable or feel uncomfortable, about spending time away from the house at the moment.
"Because of this, it's really important for people to look after their physical health and critically their mental wellbeing too. Being connected with others and taking part in activities is a great way to achieve both.
"From the 15th October, people in East Durham can take part in online dance and social sessions via Zoom with artists to stay fit, healthy and be creative. We've also created a new Facebook community where people can come together and feel supported. Artists, volunteers and producers will be posting creative things people can do in their house to help improve their mood and make sure no one feels lonely or isolated during this difficult time."
Falling on your Feet sees participants work with choreographers to co-create their own dance, whilst at the same time, improve their balance and coordination. Research has shown dance is a great way for older people to boost their overall fitness and help prevent age-related accidents that can lead to more severe health problems.
The programme also provides a chance for people to socialise after each class and meet people from their local community.
Cheryl continued: "We are very much about the art of feeling good too, so just like our in-person Falling on you Feet classes, there'll be a chance for people to stay online and enjoy a cuppa and a chat. We want our new group to be a place where people can support each other and form new, long lasting friendships.
Helix Arts' 'Zoom online with Falling on your Feet' classes in East Durham begin on 15 October and run for ten weeks every Thursday, up to 17 December. Classes start at 11am and run until 12:30pm. Full details are available at www.helixarts.com. People without a Facebook or Zoom account will be supported to get online. To take part, contact Sam Burgess from Helix Arts on s.burgess@helixarts.com or call 07988 072 993.
For more information about Helix Arts, visit www.helixarts.com.