Local communities and volunteers all across County Durham are getting ready for the Big Spring Clean, an annual litter-picking event.
The Big Spring Clean, which celebrates its tenth anniversary this year, is being organised by LitterFree Durham along with Durham County Council and Darlington Borough Council. 
LitterFree Durham is a voluntary group that coordinates anti-litter activities across County Durham and Darlington.  
The Big Spring Clean encourages residents to clean up, tidy up and 'green up' their towns and villages. Thousands of people have taken part in the clean-up campaign over the years. 
This year's Big Spring Clean will start on Monday 27th February and run until Sunday 16th April, and people all across County Durham and Darlington are being encouraged to sign up and organise a litter pick in their local areas. 
Gerald Lee, chair of LitterFree Durham, said, "The Big Spring Clean campaign represents a fantastic opportunity for people to really make a difference in their community."
"Last year's campaign saw 187 litter picks take place in the region and this year we're hoping to top that."
"Whether you've volunteered with us before or are new to it, we can provide everything you need to get started and even organise a litter pick of your own."
Durham County Council sees the Big Spring Clean as fitting with its priority of making the county "altogether greener".
2,581 people took part in 2016's campaign, which saw 4,982 volunteer hours put in and 2,478 bags of refuse collected. 
As part of last year's Big Spring Clean, the Environment Agency used special equipment to remove a tree and other debris, with a weight of 2.5 tonnes, from the River Gaunless in Bishop Auckland.
Volunteers from The Skill Mill and Durham County Council's Clean and Green and Civic Pride Team also collected 30 bags of rubbish from the river's banks.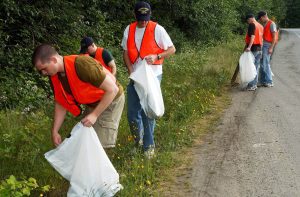 Ian Hoult, neighbourhood protection manager at Durham County Council, said, "So far we've been delighted with LitterFree Durham's annual Big Spring Clean event, but every year we aim to do better than the year before." 
"That's why this year we're urging more and more people to sign up and really make a difference to their communities."
As well as individual residents, community groups and schools are urged to take part in the Big Spring Clean. 
To organise a litter pick in County Durham, please phone 0300 261 000 or email [email protected].
To organise a litter pick in Darlington, telephone 01325 406 719 or email [email protected].
You can find out more about the Big Spring Clean by going to www.durham.gov.uk/bigspringclean.