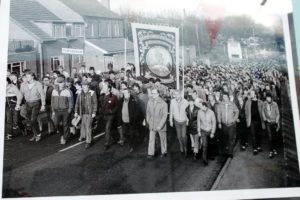 Yesterday the home secretary Amber Rudd announced that there would be no statutory enquiry or independent review into the infamous 'Battle of Orgreave'. The Battle of Orgreave occurred on June 18th 1984, when a mass picket by striking miners of a coking plant in Orgreave, South Yorkshire, turned violent.
There were pitched battles between miners and police, and many accusations of police brutality. Many miners were arrested and 95 were charged with riot and violent disorder, but all the charges against them were later dismissed when their trials collapsed.
The Battle of Orgreave is felt by many to have been one of the most notorious incidents of the year-long Miners' Strike of 1984-5.
Amber Rudd's decision has been met with outrage by many on the political left and by ex-mining communities up and down Britain, including here in County Durham.
The Durham Miners Association express their outrage at the government's decision to refuse an independent public… https://t.co/gX1ekAmWxj

— Stephen Talman (@Talman_Stevie) November 2, 2016
Former shadow home secretary Andy Burnham criticised Ms Rudd for a meeting she held with the Orgreave Truth and Justice Campaign in September, which he claimed had given the campaigners false hopes of an enquiry. Mr Burnham said,
"It is utterly cruel to have given the campaigners false hope and misled them in this way. We will never give up this fight."
Alan Cummings, the general secretary of the Durham Miners' Association, said, "The reaction is going to be huge up and down the county. People will see that there was an injustice and they want to see fair play. South Yorkshire Police have got to be brought to account."
"It is hugely important that we have this public enquiry. The actions of the police that day were disgraceful. Everyone has seen the footage of police horses charging full pelt at people wearing ordinary clothes and sandshoes. It is a miracle no one was killed."
"Over 11,000 miners were arrested (over the course of the Miners' Strike); over 8,000 were charged. No police officers were charged. That is not right."
"We had lads criminalised for fighting for their jobs and their communities."
Amber Rudd justified her decision by saying, "This has been a difficult decision to make and one which I have thought about very carefully."
"Despite the forceful arguments provided by the campaigners and the former miners who were present that day, ultimately there were no deaths or wrongful convictions."
"I have now concluded that there is not a sufficient basis for me to instigate either a statutory enquiry or judicial review."
Many campaigners argue that if South Yorkshire Police had been brought to account over Orgreave, the Hillsborough Disaster, in which 96 Liverpool fans died in a crush at Sheffield Wednesday's stadium in 1989, might not have occurred.
Alan Cummings said, "Orgreave is significant because of what took place at Hillsborough."
Durham Police and Crime Commissioner Ron Hogg also criticised Ms Rudd's decision saying, "Today's announcement will leave the former mining communities in County Durham feeling bitterly disappointed."
"At the very least, miners and their families deserve answers and an independent enquiry would have led to a search for the truth."
The Orgreave Truth and Justice Campaign is now considering a crowdfunded bid for a judicial review. Barbara Jackson, the campaign's secretary, said, "I was shocked and devastated not to be offered anything."
Ms Jackson said the campaign had received a massive increase in donations and support since Ms Rudd's announcement.
Save