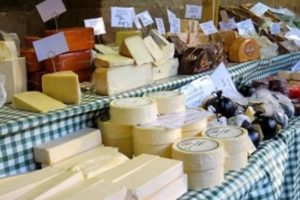 A number of fantastic markets are due to take place in Durham City at which Christmas shoppers can stock up on food, drinks and gifts for the festive season.
The City of Durham Farmers' and Producers' Market, normally held on the third Thursday of each month, will have a special festive flavour when it takes place on Thursday, December 15th. As well as being able to purchase high quality, locally produced food and drink, shoppers will also have the opportunity to browse stalls selling handcrafted items.
The City of Durham Farmers' and Producers' Market will be open from 9 am and will run until 3.30 pm though some stalls may close earlier if all their stock is sold. Described as offering "a wide range of regionally produced items, including fresh local meats, cheeses, breads and seasonal vegetables", the Market is advising consumers that "it is worth turning up early, particularly in December, when the queues for brussel sprouts are impressive!"
Outdoor Christmas markets are also due to take place on December 21st, 22nd and 23rd.
Durham's Market Hall will be open every day until Christmas Eve, including Sunday December 18th when the market will be trading from 11.00 am to 4.00 pm.
Also on the 18th, there will be a seasonal crafts market in Durham Market Place. Artists, designers and craftspeople from all over the north east will be selling their wares and there will, of course, be stalls purveying top quality food and drink. Organised by Durham Markets and Durham Business Improvement District, the market will run from 11.00 am to 4.00 pm.
On the evening of December 20th another market will be hosted in Durham Market Place. The Full Moon Market, which will run from 4.00 pm to 9.00 pm, will feature a large number of street food stalls, in addition to live music.
The last time it was held, the Full Moon Market attracted a crowd of over 2,000. The market should be filled with "the enthusiasm of young entrepreneurs and creative talents driven by their love of 'real food'".
The managing director of Durham Markets, Colin Wilkes, stated, "We're looking forward to a busy couple of weeks in Durham City Centre and have made sure there are plenty of extra reasons for people to enjoy shopping and eating here."
"We'd encourage everyone to visit the markets and remember how good it is for our local economy to spend with these local independent businesses."
Save
Save