DON'T MISS
Durham County Council has been battling to keep roads open and services functioning in the face of what experts have described as "an historic...
MORE NEWS
As panto season approaches, County Durham is gearing up for a theatrical extravaganza of flying carpets, magical mayhem and even a lad from Sacriston. Aladdin...
An ancient rural craft, which is considered essential for conservation and protecting wildlife, will be on display in County Durham later this week. The annual...
DURHAM MAGAZINE
A little known historic building located on Palace Green between Durham's Cathedral and Castle is to be restored. The scaffolding is already up around...
AMAZING
The comedian and political activist Mark Thomas is to bring his award-winning show The Red Shed to Durham's Gala Theatre.  The show was inspired by...
LATEST
Kids in County Durham this summer will have the chance to take part in a fascinating moon-based adventure – all courtesy of County Durham's...
High-ranking police officers, a prison governor and local business leaders are planning to spend a night sleeping rough in the cloisters of Durham Cathedral....
A trio of talented north-east performers will be giving a traditional folktale a modern twist this Easter at Durham's Gala Theatre.
Dave Johns, the actor who played the lead role in the recent Ken Loach film I, Daniel Blake, has been confirmed as the headline...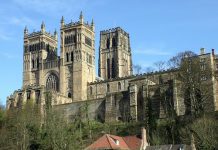 With Autumn on the way, we need to start preparing ourselves for the occasional rainy weekend. Our beautiful countryside really does lend itself to...
ENJOY
It is difficult to imagine Durham City without our University with its imposing colleges, totally inclusive student population, and the wealth of cultural benefits...