Armchair dancers across the Country are once again engrossed in the BBC Dance Spectacular Strictly Come Dancing, and the bets are on about who will be sent to the back benches first.
Many of us watching on TV rather fancy stepping out on the dance floor draped in our finery to Waltz the night away? So, why not slip on some dancing shoes and do just that, courtesy of St Cuthbert's Hospice Durham?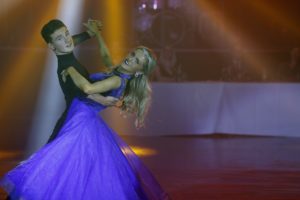 Registration for Strictly St Cuthbert's 2017 is now open meaning that 10 aspiring couples can strut their stuff in support of our local Hospice.
Earlier in 2016, thanks to Strictly St Cuthbert's the Hospice, a registered charity, became £13,500 better able to provide the specialist palliative and end of life care to those affected by life limiting illness and to offer invaluable support to both patients and their families.
Strictly St Cuthbert's 2017 offers successful competitor couples the opportunity to have 8 dance lessons to refine their ballroom skills in Waltz, Jive, Charleston or Tango as preparation for the splendid Grand Finale Next Spring. The Dance lessons will be held at the Dudman Academy Dance Studios, Heaton, or Zazz Studios, Houghton Le Spring. Strictly St Cuthbert's Grand Finale 2017 will be held on March 18th at Rainton Meadows Arena.
Reigning champions Helen Corner and Victoria Mansell, best friends from Chester Le Street, stunned the audience this year with their Charleston routine to the 'Hot Hondy Rag' from Chicago. In addition to this event Mrs Corner, and her brother Daniel Lowden have helped to raise more than £18,000 for the hospice since her mother Wendy died there in 2014. There's still more money coming in and Helen is confident to have raised over £20k by the end of September. She says: "Strictly was such an incredible experience, I still can't believe we won. It was overwhelming and I know my mam would be proud of me."
 Dance fans who are interested in joining the recruits for the 2017 event and signing up to don your dancing shoes for St Cuthbert's Hospice, contact Sheela Joy at St Cuthbert's on 0191-374-6194 or Sheela.Joy@stcuthbershospice.com. Registration is £30 per person.
Strictly St Cuthbert's Durham 2017 will only be a roaring success if the people of Durham City and County get behind it with strong support. The success of Strictly St Cuthbert's 2016 was due the excellent support of people who sponsored the dancers, purchased tickets for the Grand Finale and gave freely and we thank them sincerely. Strong support for Strictly St Cuthbert's 2017 will enable the Hospice to provide even more care and support in the coming year.
Please, support their work generously as they support our loved ones.