The Durham Hymns – songs that echo the voices of those affected by the First World War – will be performed again in Durham to mark the 100th anniversary of the end of the conflict.
November 11th 1918 will see choirs, brass bands, actors and musicians from across the north east joining together to perform the Hymns in Durham City's Gala Theatre.
The words to the Hymns were written by poet laureate Carol Anne Duffy. Carol Anne drew inspiration from the letters and diaries of people who lived through the war, which are kept in Durham County Record Office.
The Durham Hymns were first performed in Durham Cathedral in 2016 to commemorate the centenary of the Battle of the Somme. One critic described the performance as "a thing of glowing beauty."
With November 2018 marking 100 years since the Armistice, Durham County Council and the Northern Regional Brass Band Trust have decided to restage the Hymns.
Newcastle-born, former Emmerdale actress Charlie Hardwick will resume her role as narrator while fellow Newcastle actor Micky Cochrane will be a new face in the cast.
The conductor for the event will be the director of the Newcastle Sinfonietta Mark Edwards while Simon Davies-Fidler will be back as chorus director.
The performance will feature the award-winning chamber choir Voices of Hope, which was founded by Simon, and the Centenary Choir, a community choir Simon specially directed for The Durham Hymns.
Annie Rigby, of Unfolding Theatre, will be the stage director. The Durham Hymns will also feature the Reg Vardy Brass Band.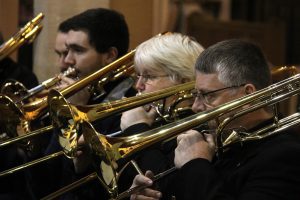 Charlie Hardwick said, "I was overwhelmed when we performed The Durham Hymns in 2016."
"Colliery bands, choral singing, poetry and the words of 'ordinary' Durham civilians and soldiers resounded in Durham Cathedral and profoundly moved us all. They have much to tell us and we have much to learn."
Mickey Cochrane said, "When I performed in The Fighting Bradfords at the Gala in 2016, I gained a new perspective on how the human spirit prevails in terrible and tragic circumstances."
"I'm sure The Durham Hymns will be equally moving, with beautifully crafted words, poetry and music showcasing the courage and resilience of real people."
Annie Rigby said, "It is exciting to plan how we will adapt the production for a different venue. We want to make it a bit different, but just as moving as it was in 2016."
"One of the reasons I was so keen to get involved in this project is that it brings the community together. Everyone believes in it and is putting their heart and soul into it."
"I'm sure it will be an unforgettable night."
The Durham Hymns will be staged at the Gala Theatre on Sunday 11th November at 2.30 pm and 7.30 pm. Tickets are priced at £25.00, £23.00 for concessions.
To learn more or book tickets, please go to www.galadurham.co.uk or telephone 03000 266 600.
(Featured image ©: Colin Davison +44 (0)7850 609 340)