A community art project is poised to celebrate Weardale's industrial past.
The Weardale Tub project aims to help people of all ages discover how their area's rich industrial history has shaped the communities and landscapes they live in.
The project will create a full-scale, replica lead-mining tub. The tub's sides will be made up of beautiful handmade glass panels.
The tub will be created and installed at Killhope Lead Mining Museum in Upper Weardale. When the piece is complete, the sides of the tub will display 500 panels, all of which will reflect the history and industrial past of County Durham.
Experienced glasswork tutors will help participants to create their own panels. The panels will use materials that reflect County Durham's industrial heritage along with frits, tracks, stingers and other materials.
Once the panels are ready, they will be fitted together and fired to form larger panels. These larger panels will form the sides of the tub, which will be unveiled at Killhope in July.
The project will be led by Durham County Council and MBC Arts Wellbeing CIC, a community arts education company. Artists from MBC Arts Wellbeing CIC have already created the steel frame of the tub.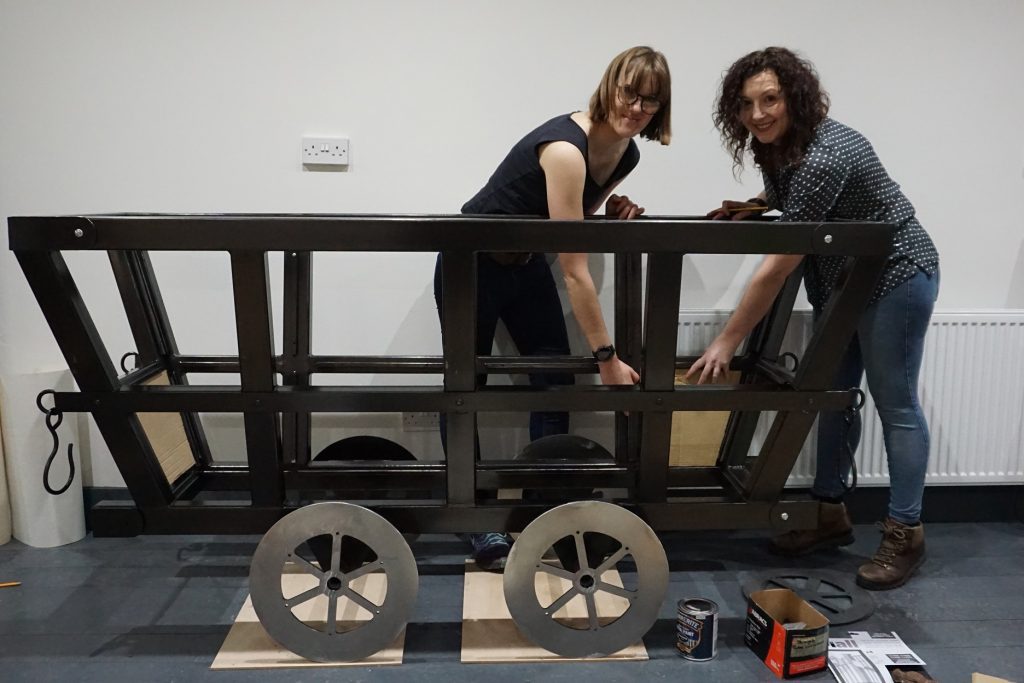 The artists will also be offering a series of free glassmaking workshops across Weardale, which community groups, individuals and schools are invited to attend.
A documentary about the Weardale Tub project will be made by MBC Arts, which participants are welcome to take part in.
Durham County Council's community development officer, Debbie Connell, said, "Often, when we talk about heritage, we think of the past and the lives and accomplishments of those who came before us."
"However, heritage is about more than that. It is a celebration of how previous generations shaped the communities and landscapes that exist today."
"In Weardale, evidence of the area's industrial past is all around us and what better way to acknowledge that than by creating an art installation that links people to their past in such a visual way."
"I would urge people of all ages to sign up for our free workshops and make their mark on the Weardale Tub."
The workshops will be held at:
Low Barns Nature Reserve, Witton-le-Wear – Tuesday 22nd January, 9.30 am to 12.00 pm or 12.30 pm to 3.00 pm.
Wolsingham Town Hall – Tuesday, 29th January, 6.00 pm to 8.30 pm
Fosterley Village Hall – Thursday, 28th February, 6.00 pm to 8.30 pm
Stanhope Community Centre – Wednesday 6th March, 9.30 am to 12.00 pm or 1.00 pm to 3.15 pm
Chatterbox Café, St John's Chapel – Thursday 14th March, 6.00 pm to 8.30 pm
Cowshill Village Hall – Monday 18th March, 1.00 pm to 3.30 pm
Killhope Lead Mining Museum – various dates during the Easter holidays, to be confirmed
As places in the workshops are limited, booking is essential. To book your place – or learn more about the Weardale Tub project – please email [email protected] or telephone 03000 262 679.
The Weardale Tub project is funded by Arts Council England, Durham County Council, Weardale Area Action Partnership and Northern Heartlands.
The project follows on from the successful We Are Weardale scheme, a creative literacy project that encouraged local people and primary school children to produce stories about life in the dale.
(The featured image shows the Houghton Tub in Sunderland, which the Weardale Tub might look similar to when it is complete.)