Children in a County Durham hospital recently enjoyed a special Christmas treat – when they were visited by stars from Robinson Crusoe, this year's pantomime at Durham's Gala Theatre.
The children, in the Treetops Ward at the University Hospital of North Durham, got to chat and share some festive cheer with the characters Robinson Crusoe, Billy Bob, Polly Perkins and Aqua Marina.
Among those visited were Phoebe Dodds and Harry Stewart, both from Consett.
The writer and director of Robinson Crusoe, Paul Hartley – who also plays the character of Billy Bob – said, "It's hard for children who have to spend the Christmas period in hospital and we hope our visit made them smile and brightened their day."
"Visiting the hospital is really important to us and every year we are left humbled by the great work of the staff as well as the bravery of the children and their parents."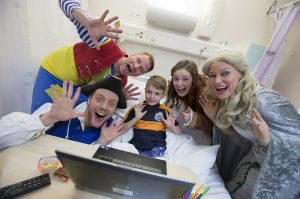 The senior sister on the Treetops children's ward, Katie Pike, said, "It was wonderful to bring a bit of the pantomime into the hospital, and it really made the children's day when Robinson and the cast walked into the ward."
"We do everything we can to make sure our younger patients are able to enjoy all the excitement of Christmas."
"One of our nurses has also been attending the pantomime at the Gala for the last ten years and was thrilled to meet Paul and the team, especially as it coincided with her last day at work before emigrating to Australia!"
It's still not too late to snap up tickets for Robinson Crusoe at Durham's Gala theatre, with most tickets now available for shows in the new year.
Anyone with a birthday in January can get a free ticket to a January performance by phoning 03000 266 600 or going to the box office in person. Proof of date of birth is required upon the purchase or collection of the tickets and the offer does not extend to tickets already bought.
To book tickets and for more information, please visit www.galadurham.co.uk.
The Gala Theatre has also recently announced details of its Spring Programme for 2018.
(The featured image show Phoebe Dodds with the stars of Robinson Crusoe)