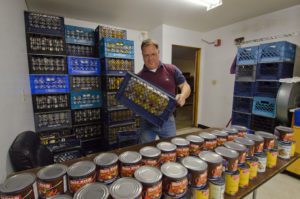 The Labour MP for Durham, Roberta Blackman Woods, has highlighted the large numbers of people who are reliant on Britain's food banks.
Professor Blackman Woods was recently at the Tesco Extra store in Durham's Gilesgate to show her support for a scheme to get food to needy people. As part of the Tesco Neighbourhood Food Collection initiative, the supermarket asks customers to donate foods with a long shelf life, like pasta, tinned fish, canned fruit and powdered milk.
Tesco then adds a donation worth 20% of all the food given by the public. In addition to this, the supermarket chain contributes spare food from their online and fresh distribution centres.
Tesco is running the scheme in cooperation with the Trussel Trust and FareShare, charities that supply food to disadvantaged people. Roberta Blackman Woods commented,
"The increase in people relying on food banks is a shocking indictment of this Conservative government."
"It is totally unacceptable that people in this country have to rely on the generosity of others in order to have enough food to live."
"I applaud the work that is being done by Tesco, the Trussel Trust, Fareshare, and other food banks and charities to help people who find themselves in the extremely difficult situation of not being able to feed themselves or their families."
"I hope we can return to being a society where people cannot fall through the safety net to the extent that they cannot afford food or other basic necessities."
"In the run up to Christmas, I encourage everyone to donate what they can so that no family is hungry at Christmas."
The Trussel Trust estimates that, from April 2015 to April 2016, over half a million people used its food banks and that it handed out well over a million emergency food packages. The charity stated,
"One million three-day food supplies given out by our food banks every year is one million too many. This must not become the new normal."
"The number of people hitting a crisis where they cannot afford to buy food is still far too high."
A recent photography exhibition at Durham Town Hall also highlighted the difficulties faced by people dependent on food banks.
Save
Save
Save