Richard Holden MP's 'Pub of the Year' Award 2022 was created to celebrate the fantastic pubs, clubs, and hospitality in his North West Durham constituency.
Over five hundred of Richard's constituents took part, and many establishments were nominated. Thousands of hard-working families enjoy them in their spare time, and Richard is a proud champion and tireless campaigner for the industry. The opportunity to thank them for their resilience over these past few years has been a welcome one.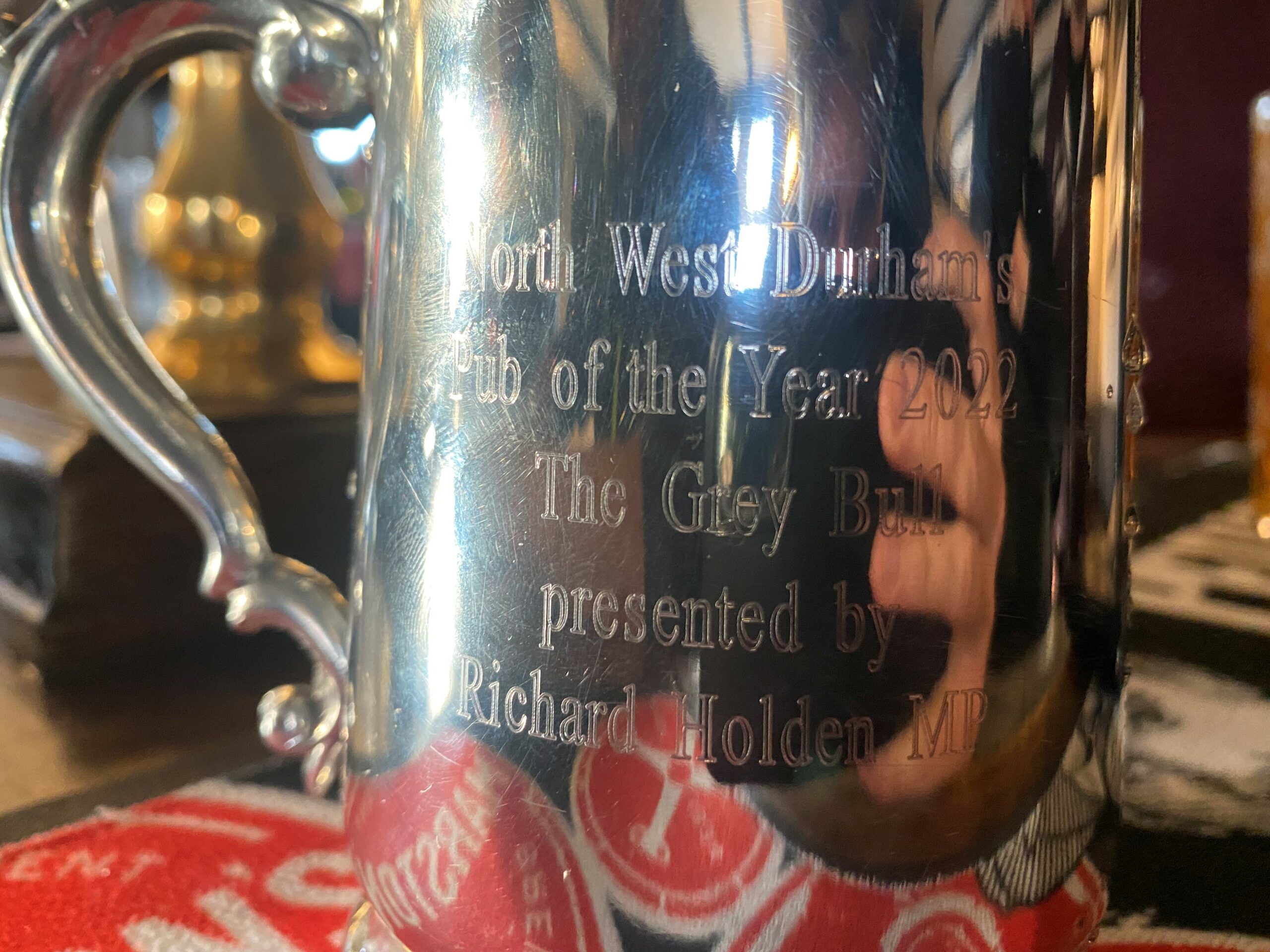 After months of voting, hundreds of North West Durham constituents sent in their nomination for Richard Holden's 'Pub of the Year' 2022. The winner of the award – the Grey Bull – is a lively country pub at the heart of Stanhope.
They fought off strong competition, and eventually came ahead of over 30 pubs and clubs that were nominated. Three other pubs received highly commended certificates: The Fleece in Castleside; the Steel Club, Consett; and the Royal Oak, Cornsay Colliery, who all got very significant numbers of nominations.
Richard Holden MP has always been a keen pub-goer and understands their importance in fostering a sense of community. As well as providing important employment opportunities, especially in North West Durham's towns and villages. Richard's first job was actually working as a waiter in a small restaurant and he spent the first five years of his employment in various pubs, cafes, and restaurants, so he has lots of first-hand experience working in the sector. He knows how important it is these small businesses are recognised for the role that they play – which is why he launched this year's 'Pub of the Year' awards.
Since being elected in 2019, Richard Holden has worked hard for the sector in Parliament during the difficulties over the pandemic, too. He won Parliamentarian of the Year from the Beer All-Party Parliamentary Group2; he was the winner of the Champion of British Pubs Award3; backed the Long Live the Local campaign highlighting the importance of pubs4; pressured the former Chancellor to introduce a new lower rate of duty for draught beer5; and then also led calls for extra financial support for pubs during the COVID-19 pandemic.6
Commenting, Richard said:
"Pubs and clubs are at the heart of our towns and villages. And I am delighted that the fantastic Grey Bull in Stanhope, where I occasionally stop off after a busy day in the constituency, has been voted as my Pub of the Year 2022.
"I will continue to fight really hard in Parliament for local businesses and especially for our hospitality sector, which has faced huge challenges over the last two and a half years. I am glad that the Government has listened recently to cap energy prices for businesses, as well as families and will continue to champion small local businesses in North West Durham on issues from Business Rates to Energy Bills in the coming months and years."
Commenting, Stuart Brown, Landlord of The Grey Bull, said:
"It feels fantastic to win – it's a nice surprise and I'm really impressed with my tankard! Thanks to everyone that voted!"