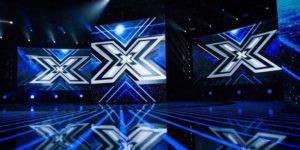 On this week's X Factor, Sam Lavery delivered a powerful interpretation of Gloria Gaynor's disco classic I Will Survive. But Sam's version slowed the Seventies smash down, triggering a mixed response from the judges.
Last week, Sam had a scare when she found herself in the bottom three for the first time. The show's rules state that while one act can be rescued with a 'lifeline' vote, the other two have to compete in a 'sing off', following which the judges decide who to eliminate. Sam said,
"I was in the bottom three for the first time and it was literally the worst feeling. And I just kept thinking, 'Come on Dermot, please say my name."'
And Dermot did announce that Sam had won the lifeline vote. Sam said, "Yes, I'm doing it next week, let's go!'
Commenting on I Will Survive, Sam said,
"It's kind of a fighting song. After last week, I felt I needed a boost."
And Sam got a boost when her two best friends from County Durham came to visit her this week at the studio.
Sam said, "Katie and Jodie are my best friends, having them here was amazing."
Sam's pals brought her a box from home, containing her teddy bear and a bag of her favourite strawberry-flavoured sweets.
Before delivering her song, Sam said, "I am the youngest in the competition and I want that to show. I want everyone to see that I'm having fun."
I loved every second of that!! Thank you so much for everything and for the continuous support!❤️ pic.twitter.com/ia6nkrDVFf

— Sam Lavery (@SamLavery_) November 12, 2016
Following Sam's performance, Nicole Scherzinger said, "You sound amazing, Sam. I think the song has the wrong tempo."
As boos resounded, Nicole went on, "I like the production, but it was too slow for me. Your voice has a fire behind it. I wanted you to unleash on that stage."
Louis Walsh said,
"Sam, I love your voice, I love that song, but I kept wanting it to turn into the disco anthem that it is. For me, it was a little bit slow. I have to agree with Nicole."
Sharon Osbourne commented, "You sang it well. I do want to see another side of you though – I want to see you using the stage; I want to see you be up. You were sassy with the song, it was good for that song, but I next week I really do want to see another side of you."
Simon Cowell said, "It's always a little risky when you change the original version, but if we'd have done the original, it could have been a bit karaoke. I felt that you controlled the song; it felt like your version."
Drawing huge applause, Cowell continued,
"You're very gutsy, Sam. You're 17-years-old. You take on a big song like that; you do your version. I think it's gonna work."
After hearing the judge's comments, Sam said, "I really enjoyed this. I felt like I could put my performance on it, but I do agree, I would like to show a different side to me, and I felt I did tonight, but I think there's more with different songs and more upbeat stuff as well."
The County Durham lass might need an extra boost this week. Yesterday, The Sun newspaper reported that an analysis of betting behaviour showed punters were putting more money on Sam to be eliminated than on any other contestant.
To vote for Sam Lavery, call 090 20 50 51 02 from your landline or 6 50 51 02 from your mobile. You can also vote for free via the X Factor app.
Save