Durham's Gala Theatre will be staging two family friendly shows over the Easter period.
Those looking for pre-historic adventures might enjoy Dinosaur World. This new, interactive show will feature a number of lifelike monsters such as Tyrannosaurus Rex and Triceratops. Kids will even have the chance to meet the dinosaurs after the performance.
Dinosaur World will follow the adventures of the brave explorer Miranda as she journeys across the remote island of Mundo de Los Lagartos Terribles.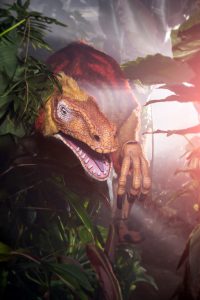 If you would like to follow her exploits, Dinosaur World will be staged at the Gala on Saturday April 15th and Sunday April 16th at 11.30 am and 2.30 pm.
Tickets are priced at £12.50.
The following week, an adaptation of the bestselling book The Scarecrows' Wedding – by the authors of The Gruffalo Julia Donaldson and Alex Scheffler – will be coming to the Gala Theatre.
The Scarecrows' Wedding is a heart-warming play which tells the story of the scarecrows Betty O'Barley and Harry O'Hay, who decide to get married.
Harry goes off to search for their wedding day essentials, but he is soon replaced in the field by the smooth but dangerous scarecrow Reginald Rake, who tries to convince Betty to ditch Harry in favour of him.
Will Harry manage to get back before Reginald ruins his big day?
The Scarecrows' Wedding, presented by Scamp Theatre, will be staged at the Gala on Tuesday April 18th at 2.00 pm and 4.00 pm and on Wednesday 19th April at 12.00 pm and 2.30 pm.
Tickets for the show cost £12.00 (£10.00 for concessions). Family tickets are also available, priced at £40.00.
Both The Scarecrows' Wedding and Dinosaur World are suitable for children over the age of three.
If you would like to book tickets, you can visit www.galadurham.co.uk or phone 03000 266 600. You can also purchase tickets in person from the box office of the Gala Theatre.