Beamish, The Living Museum of the North is unveiling meticulously recreated 1950s-era mineworkers' residences designed to serve as a pioneering environment for engaging with individuals coping with dementia and other enduring health challenges.
The facilities, in a replica of cottages from Marsden Road, South Shields, will open this Friday, 6th October, providing a home for the museum's inspirational Health and Wellbeing Team.
The team runs activities for people living with dementia and long-term health conditions, as well as to help with mental health, loneliness and isolation. The new facilities, known as Clover Cottage, will allow the team to expand its acclaimed work, reaching people with a wider range of health needs.
The remaining two aged mineworkers' homes in the terrace, in Beamish's 1950s Town, will be open to visitors to show what life was like for the region's retired miners in the 1950s. 
Rhiannon Hiles, Beamish's Chief Executive, said: "The opening of Marsden Road Aged Mineworkers' Homes is very special for the museum. 
"Our Health and Wellbeing Team will have a new home to expand their amazing work, making a real difference to the lives of people living with dementia, and other health conditions, and their families and carers.
"Such a lot of work has gone into creating these fantastic spaces, where visitors will be able to find out about life for retired miners in the 1950s.
"A huge thank you to everyone who has been involved in this project and to our supporters and funders, including The National Lottery Heritage Fund."
The aged mineworkers' homes are part of the Remaking Beamish project, which includes The 1950s Town, 1950s Spain's Field Farm and an expansion of the Georgian landscape, including overnight accommodation. Thanks to the money raised by National Lottery players, the Remaking Beamish project was awarded £10.9million by The National Lottery Heritage Fund in 2016.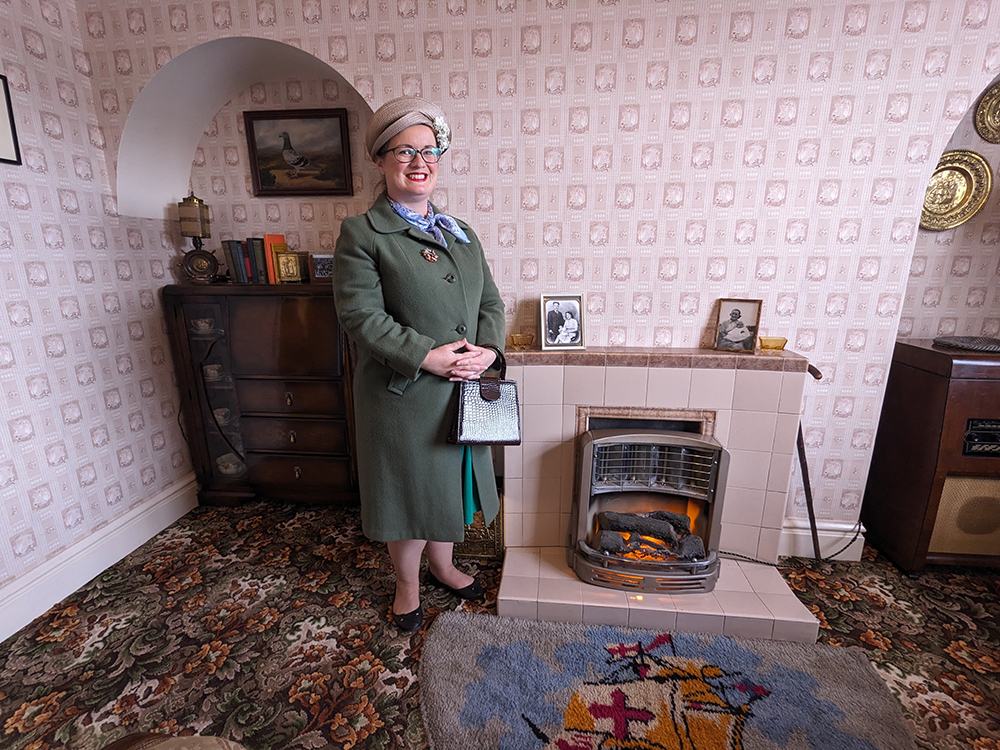 Beamish's Health and Wellbeing Team runs a programme of immersive and innovative sessions, including Men's Groups, Canny Cuppa social groups, walking groups, music and movement sessions and group sessions which explore the collections. The new aged mineworkers' homes will allow the team to work with more people, run many more activities, and reach people with a wider range of health needs. Clover Cottage has been created to have an authentic 1950s look and feel, while being accessible and dementia-friendly, including carefully planned lighting levels, paint colours, layout and furniture.
Michelle Kindleysides, Beamish's Head of Health and Wellbeing, said: "We're all really looking forward to moving to our new space in The 1950s Town. It's a really exciting time for us as a team, along with our volunteers and our participants who attend our groups.  
"It will make such a difference to our work, it will mean some of our groups can have more people in, and we can increase the variety of activities that we do, and offer people more choice. The additional facilities will mean we'll be able to welcome people with a wider range of physical health difficulties too. 
"It's been a real team effort to design the space, working with lots of teams across the museum, our volunteers and participants with memories of the 1950s and also external organisations too. We've combined our knowledge of dementia design and accessibility with the architects, design and collections teams to create a space that looks historically accurate but is also functional, usable and safe for people with a range of health needs and impairments.  
"I think what is most special about our new house is that so many people have been involved in designing what it looks like. Our volunteers and participants have been involved throughout the process; helping to choose paint colours, fabrics, pictures and ornaments. So everything is there because it means something to someone, whether it reminds them of someone or it actually belonged to a relative. The photographs in the house are all of people that we know; our families and our volunteers and their families, in the 1940s and 50s. So it really does feel like a family home."
In addition to Clover Cottage, two of the homes on the terrace will be open to visitors to show life for retired miners in the 1950s, telling the stories of a recently retired couple and an older widow.
Beamish has been working with Durham Aged Mineworkers' Homes Association (DAMHA), which owns the original Marsden Road houses, and also with residents and community groups to gather stories and memories of 1950s life.
Aged mineworkers' homes were some of the earliest forms of social housing to help elderly members of mining communities. Visitors will be able to find out more about the work of DAMHA, which was founded in 1898. The first Marsden Road Aged Mineworkers' Homes were opened in 1914 and DAMHA provided Beamish with documents including plans, a blueprint of the homes in their original context and a photograph of the committee.
Paul Mullis, Chief Executive of DAMHA, said: "We are delighted to have been involved in this amazing project which has seen our aged miners' homes in Marsden Road being faithfully replicated in the new 1950s Town.
"Our residents at Marsden Road were fully involved from the initial inception, and having visited the completed homes recently, they commented about how sympathetically they have been recreated both inside and out.
"We would like to thank Beamish Museum for enabling us to be part of this project and for their work in ensuring our historic aged miners' homes will be seen by many more people now and in the future."
Helen Featherstone, Director, England, North at The National Lottery Heritage Fund, said: "We're delighted to see another element of the Remaking Beamish project completed, which has been made possible thanks to National Lottery players. It's fantastic to think that the aged miners' homes will provide a supportive space for those with dementia and wider needs, while visitors can take a step back in time to learn about this important story of the North East's rich mining heritage."
In addition to The National Lottery Heritage Fund, the aged miners' homes project has been supported by the Friends of Beamish and The Rothley Trust.
The 1950s-aged mineworkers' homes will open to visitors this Friday, 6th October from 11 am. Find out more about visiting Beamish at www.beamish.org.uk.