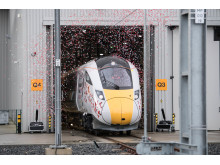 Hitachi's new cutting-edge factory in Newton Aycliffe has now manufactured its first trains. The £82 million plant, which became operational in September 2015, unveiled the first of its new Intercity Express trains on Friday.
The Hitachi factory, which it is hoped will employ 900 people by spring 2017, is manufacturing 122 of the Intercity Express trains. The trains will be deployed on the Great Western and East Coast Main Lines.
50 apprentices are employed at the Newton Aycliffe plant. Hitachi also says that "a host of British businesses will continue to supply parts for new trains, supporting thousands of additional jobs countrywide."
A ceremony was held at the factory on Friday, with northern powerhouse minister Andrew Percy, transport secretary Chris Grayling and the Japanese ambassador Koji Tsuruoka all in attendance.
The managing director of Hitachi Rail Europe (HRI), Karen Boswell, said, "Today is a celebration of train manufacturing in the north east, supporting thousands of jobs and developing a strong engineering skills base in the region."
"Trains running across the country's rail network will be built by a proud workforce harnessing the best of Hitachi's long-standing rail expertise."
"The company that built the world famous bullet trains is now building the next generation of UK trains, which will deliver a step change in intercity travel, offering more capacity, greater comfort and a lower carbon footprint."
Kentaro Masai, chief operating officer of Hitachi Ltd, said, "It was 90 years ago in 1926 that a senior Hitachi engineer first visited the north of England to study the leading edge railway technology of the time."
"Today we have a modern intercity train built in the north east by combining the best of Japanese technology delivered with the best of British manufacturing."
"We look forward to continuing our endeavours to deliver top quality trains on schedule for UK customers and train passengers."
The new Intercity Express trains should be appearing on the Great Western Main Line at the end of 2017. Virgin Trains aims to introduce them on the East Coast Main Line in 2018, beginning the process of replacing the current 125 fleet.
Hitachi's Newton Aycliffe plant might also be awarded a massive £7.5 billion contract to build trains for the HS2 project, which it is hoped will have improved rail links between Britain's major cities by 2033.
Save
Save