The work of a French photographer who challenged the gender expectations of her time is now on display at Durham's Gala Theatre.
The Exhibition, entitled Claude Cahun: Beneath this Mask, will run until Sunday 11th November.
Cahun (1894-1954) has achieved posthumous fame for her self-portraits. In these photos, she adopted numerous personae that questioned the gender and social norms of her era.
Though born as Lucy Schwob, the photographer adopted the more masculine-sounding name Claude Cahun to overcome the gender constraints that could then limit the appreciation of the work of female artists.
Cahun allied herself to the French Surrealist movement, becoming friends with the poet and Surrealist group leader Andre Breton.
On the eve of the Nazi occupation of Paris, Cahun fled to Jersey. Here she worked on a series of photos that challenged traditional notions of gender and identity.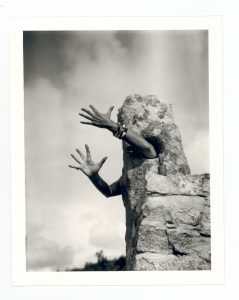 The exhibition at the Gala Theatre contains 42 contemporary prints made from scans of Cahun's original photographs – as most of Cahun's negatives have, sadly, been lost.
The manager of the Gala Theatre, Robin Byers, said, "Claude Cahun refused to follow the rules when it came to portraiture and this fearless approach resulted in a body of work that is as thought-provoking today as it was more than half-a-century ago."
"We are delighted to bring her striking self-portraits to the north east. This is really a must-see exhibition."
Claude Cahun: Beneath this Mask is produced in collaboration with Jersey Heritage. The exhibition was first shown as part of the Women of the World Festival in 2015 at the Southbank Centre in London. The exhibition has come to Durham thanks to the Southbank Centre's Haywood Touring programme.
The exhibition is free. It is open from 10.00 am to 8.30 pm from Monday to Saturday and from 2.30 pm to 8.30 pm on Sunday. For more information, please go to www.galadurham.co.uk.
(The featured image shows Claude Cahun's  Self Portrait 1928, courtesy of Jersey Heritage.)