County Durham booklovers will soon have the chance to listen to many of the works of their favourite authors – all for free.
Hundreds more online audiobooks have now been made available to library users via the easy-to-use Borrowbox app.
Audiobooks are recorded stories, which are usually read by professional voice actors. You can listen to them in the car, while working out or doing household chores, or when your eyes are simply too tired to read.
The works of many well-known – and less well-known – authors are now available in audiobook format.
As many of the audiobooks available from County Durham's libraries are online, they are easy to access via your phone, tablet, laptop, desktop or e-reader. All you need is an internet connection and a library card.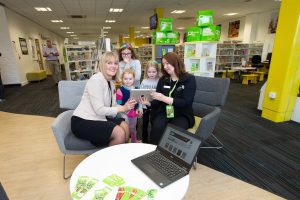 Durham County Council's cabinet member for transformation, Cllr Joy Allen, said, "There's sometimes a perception that e-books and e-audiobooks are only for people with visual or hearing impairments and reading difficulties, but they are also a great way to incorporate reading into a busy lifestyle, whether that's reading by the pool or on holiday, listening to a bestseller whilst driving in your car or listening to a good storyteller read a bedtime story with children and grandchildren."
"Some people can't make it to our libraries for a variety of reasons so digital books are an exciting new way for us to bring library services to new audiences and the Borrowbox app makes it so easy to do."
"I hope that this free and accessible library resource will prove popular with existing members and also attract many new members who would like to download their favourite authors' e-audiobooks and e-books."
You can access digital books by going to www.durham.gov.uk/libraries. You can also download books directly from the Borrowbox app.