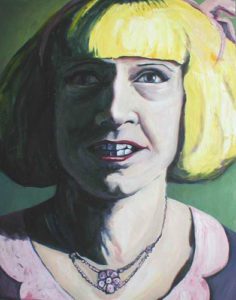 A banner made by the well-known artist Grayson Perry is due to hang alongside ancient textiles in an exhibition at Durham Cathedral.
Entitled Death of a Working Hero, Perry's Banner was created during a trip he made to County Durham for his Channel 4 series, Grayson Perry: All Man, which examined notions of masculinity. Perry based Death of a Working Hero on traditional miners' banners.
The piece, which will be displayed in the Monks' Dormitory, shows a miner and a cage fighter above a scene of a funeral. The funeral scene suggests that the high death rates associated with collieries have been replaced by high levels of suicide among men in former mining areas.
Grayson Perry banner on show @durhamcathedral today with religious textile treasures we rarely see https://t.co/QoN0aKxCZW pic.twitter.com/2m3qGhr9Gh

— david whetstone (@DavidJWhetstone) 5 November 2016
Perry's banner will be part of the exhibition Textiles: Painting with the Needle. The exhibition, which opens this Saturday, will also include a number of historic treasures.
Two items removed from the tomb of St Cuthbert, when it was opened in Victorian times, will be on display. They are a braided Anglo-Saxon vestment from the Eighth century and a Spanish shawl, made of silk and patterned with doubled-headed peacocks, which was probably made around 1100.
Lisa di Tomasso, Durham Cathedral's head of collections, said,
"This latest and much anticipated exhibition puts on display some of the cathedral's richest textiles – rich in their history, their splendour and their symbolism."

"With such a breadth of subject matter from the most modern piece on loan to us by Grayson Perry to Anglo-Saxon relics, we hope to attract a wide spectrum of visitors."
The exhibition also includes the Coronation Cope, a magnificent garment worn by Bishops of Durham at the coronations of the last four monarchs. Another cope which will be on display was commissioned by Durham Cathedral for a royal visit by Charles I. The cope is considered a rare and stunning piece of 17th century needlecraft.
Another exhibit will be a bible with an embroidered cover. The bible once belonged to Lady Arabella Stuart, a cousin of King James I. Detained in 1610 for marrying without James's consent, Lady Stuart managed to escape from house arrest, but was later recaptured. She died in the Tower of London, where she embroidered her bible cover.
Textiles: Painting with the Needle, which will run until February 11th, is part of Durham Cathedral's Open Treasure exhibition.
Tickets cost between £2.50 and £7.50 and can be purchased from the Visitor Desk in the cathedral or from the Open Treasure Welcome Desk. They can also be bought online at www.durhamcathedral.co.uk/open-treasure/book.
Save
Save