Durham's Gala Theatre is to mark the 100th anniversary of the end of the First World War with a play exploring the conflict's impact on three north-east soldiers.
The Muddy Choir chronicles how the young Durham Light Infantry (DLI) recruits use their singing talents to cope with the horrors of war.
The three soldiers – from Sunderland – Robbie, Jumbo and Will, find themselves in the trenches of Ypres and hope to deal with their drastic change in environment through humour and song.
Having sworn an oath to each other – 'nee killing, anly singing' – the trio set about forming a choir in the hope their musical abilities will get them transferred away from the front.
But their bid to grab the attention of their commanding officers may well put them in even more danger than facing bullets and poison gas.
The Muddy Choir will feature north-east folk songs from the time of the First World War. The regional connection is further strengthened by the fact that two of the play's stars, Chris Coxon (Robbie) and Ben Walford (Jumbo), hail from Consett, County Durham.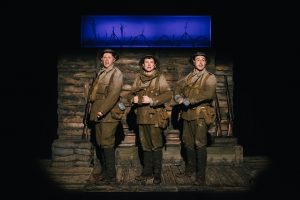 The service manager at the Gala Theatre, Robin Byers, said, "We are thrilled to welcome The Muddy Choir to the Gala Theatre on its national tour."
"This play is an inspiring memorial to a generation of young men from the north east who fought in the First World War."
"We're also wishing a warm welcome back to Chris Coxon, who attended the Gala Theatre Stage School back when it first began, and also to Ben, who hit the Gala stage many times in his youth. It's great to have them back – this time as professional actors."
The Muddy Choir – written by Jesse Briton – especially aims to grab the attention of younger theatregoers. The play has been nominated for the Best Play for Young Audiences prize as part of the Writers' Guild of Great Britain Awards.
The Muddy Choir will be performed on Thursday, 1st November at 2.30 pm and 7.00 pm at Durham's Gala Theatre. Tickets cost £12.00, £10.00 for concessions.
To book tickets, please telephone 03000 266 600 or go to www.galadurham.co.uk.
The Muddy Choir is not the only show the Gala Theatre is staging to mark the centenary of the end of World War One. The theatre will also host a performance of The Durham Hymns – with lyrics by poet laureate Carol Anne Duffy – on 11th November.