A suffragette and labour activist from County Durham has gained national recognition for her role in the struggle for the right of women to vote.
Connie Lewcock, a schoolteacher from Esh Winning, has been included in a national list of 100 Suffrage Pioneers.
Connie, whose maiden name was Ellis, was born in Lincolnshire in 1894. She moved to Esh Winning in 1912 to take up a teaching post.
After becoming a suffragette at the age of just 14, Connie was involved in a large number of protests. During World War I, she was active in the Independent Labour Party (ILP), a forerunner of the modern Labour Party.
During the First World War, Connie helped to organise munitions workers in Middlesbrough.
After accusing companies that supplied meat to front-line troops of making excessive profits, Connie was charged with making seditious speeches. She would have been sent to prison had not the ILP stepped in to pay her fine.
Some of the suffragettes' campaigns involved acts of vandalism and when Connie instructed an associate to set fire to a railway building, she lost her teaching job.
In her later years, Connie served as a councillor in Newcastle, representing the Benwell Ward between 1960 and 1971. In 1966, she received an OBE for her dedication to public service.
Connie Lewcock died in 1980 after a fall outside her West Denton home.
Connie was suggested for the Suffrage Pioneer List by Durham County Councillor Joy Allen. Joy's recommendation was supported by research carried out by archivists at Durham County Record Office.
Durham County Record Office (DCRO) holds documents relating to Connie's life, including a log book mentioning her teaching role in Esh Winning.
The Suffrage Pioneers List is part of the From Suffrage to Citizenship project. Organised by the Women's Local Government Society, this project celebrates women who were active in the campaign for women's votes and who then went on to use the rights they won in a positive way.
It is hoped that the Suffrage to Citizenship project will encourage more young women to become politically active.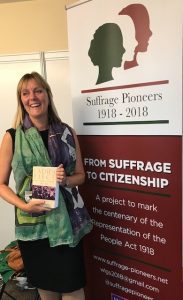 Cllr Joy Allen, who is Durham County Council's cabinet member for transformation, said, "This list celebrates the lives of those who campaigned to get women the vote and we are delighted that our bid to have Connie included was successful."
"Working closely with DCRO, we have found out more about her fascinating life and she is just one of a number of women who don't get the recognition they deserve."
"We hope this list will raise awareness of all she did both in terms of women's rights and public service more generally."
"We are also appealing for any relatives of Connie's to come forward and find out more about her life and to share any information they might have."
The stories of many women who made significant contributions during the First World War can be viewed at www.durhamatwar.org.uk.
For the full list of Suffrage Pioneers, please go to www.suffrage-pioneers.net/thelist/.
Connie Lewcock can be heard speaking about suffragette campaigns of non-violent direct action at www.bbc.co.uk/programmes/p011m2sv.